Spin the reels and discover if the glitter is from gold, silver, or diamonds! King of Bling is a five-reel, 25 payline free slot game available to all Empire Online Casino members. Watch as fabulous blinged watches, rims, sound systems, and other extravagant images spin by. King of Bling is truly a celebration of wealth!
With over the top graphics and a thumping bass soundtrack, it is remarkable that King of Bling is free. You will feel like you have really hit the jackpot! Get to the bonus rounds to see more bling and seven 'Shoutout' award events. 'Spinsanity', for example, gives you free spins while 'Let's Get Wild' gives you a random wild reveal. If you desire more bling in your life, find the 'Make it Rain' award. But the fun doesn't stop there! Spin three gold record symbols to skip ahead to the 'Scratch Master DJ' bonus round. Earn up to 3,000 virtual credits with your master scratching skills and superior ability to work the dancefloor.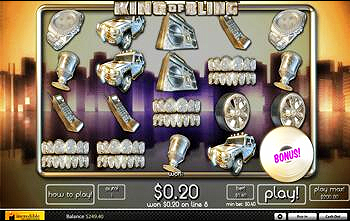 King of Bling is not your typical slot game. With over the top graphics and sound effects, you may forget that you are not in a real casino. Play this fun, exhilarating game today! If you enjoy free slot casino games online then King of Bling might just be the one for you. Check out the other free games also available on Empire City Casino Slots app for your Android.