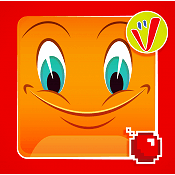 Cosmic Buddies is an animated and educational new iPhone app for children between one and seven years old. Children can play in a colorful world while simultaneously developing educational principles which will enable them to expand their minds. This cultural learning game allows children to have fun while developing their memory, reflex, and shape identification skills.

Cosmic Buddies has six little monsters that are interesting and fun to play interactive games with. Children can explore the island with the monsters. Help Grutius float through the sky and gather coins. Or go swimming with Ned the Penguin, and listen to the sounds of the ocean creatures. Each character brings a different set of values and morals for children, such as friendship, love, respect, natural survival, education, and how to live in society. The games featured in Cosmic Buddies are designed to help stimulate the mind and sharpen essential skills for development. What really differentiates this app from previous educational games is how children are learning and developing skills without even knowing it. Children become so focused on traveling and exploring the beautiful island with the characters that they won't realize the educational benefits they are receiving.
I was amazed by the originality and cuteness of the monsters in the screenshots and video. Evidently a lot of time and effort was put into creating the characters and storyline in order to maximize the amount of fun children have while playing this fun and innovative new iPhone app.
Discover a world where education is truly enjoyable. Cosmic Buddies is looking for iPhone users to beta test it here. We would like to hear your comments and suggestions on this new game app.