There are over 2 million apps in the major app stores, as shown in the graph below. This explains why app store rankings is one of the biggest concerns facing mobile app publishers today.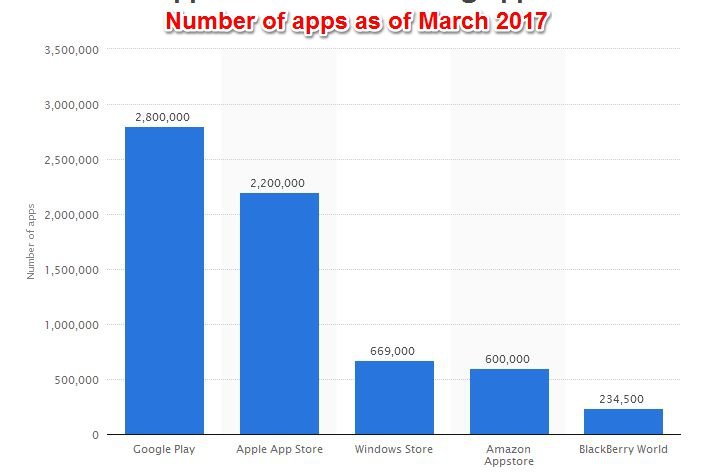 The top 3 most popular ways of finding these apps is through general browsing in the app store, recommendations from friends and family, and browsing top rated or most popular apps in the app store. These percentages are different for iOS and android users, as shown in the image below.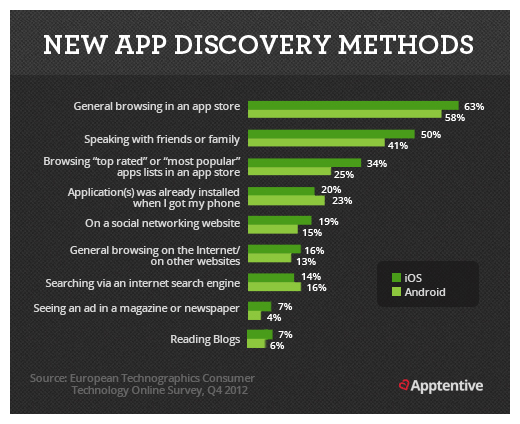 Evidently, how you market your application will determine how easily app store visitors will find you. We understand that it is not easy to be among the top search results in app stores. Gladly, we have just the right trick you could use- App Store Optimization, usually shortened as ASO.
What Is App Store Optimization?
Simply put, app store optimization is the process of optimizing mobile apps to rank higher in app store search results. The higher your app store rankings, the more visible your app will be to potential customers. Increased visibility will then lead to increased brand awareness, app downloads, and possibility for people to recommend the app to their friends.
The goal is simple:
ASO=increased traffic to your apps page on the app store= increased app downloads.
So, why exactly is ASO so important, and has it been proven to work?
Why Do You Need App Store Optimization?
Firstly, apps are big business and any marketer should ensure that they cash in as much as possible. According to WSJ, app sales are a $25 billion industry, and this doesn't account for the broader revenue generated by other industries that are part of the economy.
In reference to Ankin Jain, head of search and discovery for Google Play, 12% of all daily active Google Play users are looking for apps daily, and a whopping 50% of these Daily Active Users search for apps at least once a week. Consequently, the app store processes at least 6 million search phrases in one month!
What's more interesting is that people are buying more smartphones and investing in apps, causing marketers to scramble for these customers in the smartest of ways. ASO can help you reach this wide audience.
Secondly, as earlier stated, over 50% of both iOs and Google Play users perform general browsing on the app store to find the best apps, while others will browse for the top rated or most popular apps. This boils down to App Store Optimization, which is app store's equivalent to SEO.
In the same manner that you will prepare your website, or blog to rank higher in Google's or any other search engine's top results, you need to make your apps more visible in app stores.
Thirdly, you don't want your app to be labelled as a 'zombie app', which sadly, many apps are. As a matter of fact, a 2015 report by app analytics firm, Adjust, revealed that 83% of apps in the app store were zombies, a saddening increase from 74%, the previous year. Clearly, these businesses were barely cashing in on their innovations, since they were not organically discoverable.
Factors That Influence App Store Ranking
The best way to understand ASO and help your business realize its full potential on the app store is to focus on creating the best app store listing that will achieve more holistic rankings. To do this, you need to understand several factors that affect how your app will rank in the app store. These include:
Keyword Used In Title And Description
Keywords matter in app store optimization as much as they matter in blog posts and websites. In Jain's own words, the title is the most important piece of metadata. Including a keyword in your app title and description has been proven by MobileDevHQ to increase your app store rankings by 10.3%, as shown in the image below.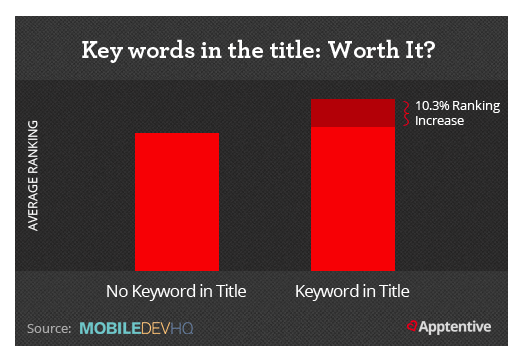 To find the right keywords to use, you need to find words and phrases that have high volume searches, are highly relevant to your app and also, have low level of competition. While most marketers do this right, some have fallen prey to the myth that you need to change your title often in order to adapt to high ranking searches.
Although the strategy sounds smart, it's detrimental to your ASO efforts. This is because, as explained by Robi Ganguly, changing your title will create different variations, which will confuse your customers, as news of your app spread, new customers will not find your product because the name already changed.
Here's exactly what Robi said:
Ratings And Reviews
Ratings and reviews have a very significant effect on your business for several reasons. As revealed in the 2016 Online Review Survey Research, 84% of people trust online reviews as much as personal recommendations. This means that poor ratings and reviews will affect your ASO.
In the same report, it is stated that 90% of consumers read less than 10 reviews before forming an opinion about a business, and 74% of them trust a local business more when they read positive reviews.  The report also reveals the importance of star ratings, which is of course applicable in app stores, showing that 58% of consumers say that the star rating of a business is most important.
Ratings and reviews play an important role because they are taken into consideration by algorithms that determine your ranking on the app store. Although this is an area of ASO that's important yet difficult to control, you can incentivize happy users to review and rate your app. After all, research has proven that 7 out of 10 consumers will leave a review for a business, if they are asked to.
App Description
As much as using keywords is good for your app description, you also need to sell yourself. Why should consumers download your app?
When filling your app meta data, you will notice that there are two parts-above the fold and below the fold. Usually, potential users will read the above fold part, and use that information to decide on what action to take. This is where you float your value proposition, explaining why you are better than your competition, and what value exactly you will add to the consumer.
The truth is, users care less about the keywords, and more on the app's utility to their day-to-day lives.
Let's see how one developer did this:
This first image shows how the above fold description was used to show the business's value proposition.

The second image shows what happened when 'more' was clicked, showing a more detailed description of the above fold description.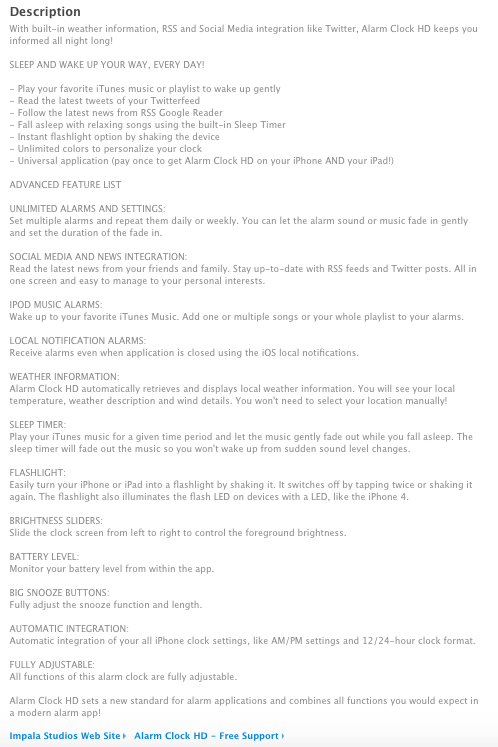 How To Improve Your App Store Ranking With App Store Optimization
Even when you have considered the main factors that could favour your app in algorithms, you need to be smart in how you place your app in the app store. Different businesses have gotten creative on how they use the app store, and as proven by the case studies below, a little twist could increase your app downloads tremendously.
1. Localize Keywords By Country Store
As common practice, Android and Apple both have country-specific stores that their site visitors use, of course, depending on their language and location. This makes optimizing by localizing keywords by country a very brilliant ASO hack.
One app, Make App Magazine, optimized by localization in Apple Store, increasing downloads by an impressive 767%.
While doing an experiment on app localization, David Janner needed to understand their non-localized apps typical app distribution, as shown in the pie chart below.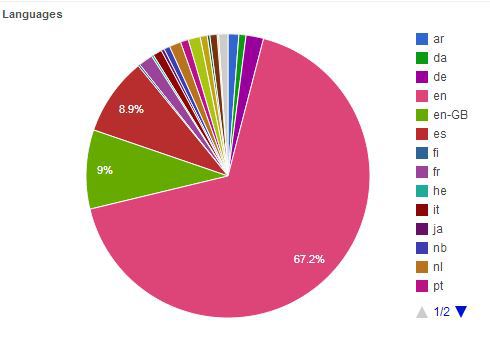 From the chart, you can tell that over 76% of all the traffic the app got was from English-speaking countries, including UK, followed by Spanish, which was 8.9%.
Janner then decided to localize one of his apps, and he noticed a stark contrast in distribution. By making that simple tweak, the business was getting traffic from all over the world, including Russia, France, China, Japan and Italy, spreading the business beyond the US borders.
He proceeded to create a pie chart to see how the language distribution changed after localization, and the results were AMAZING, as shown below.
To clearly put this in perspective, here's what happened:
Before localization, English made up 76% of overall downloads, which changed to 10% after localization.  Overall, after localization, there was 23,000 app downloads in one month, with only 2300 downloads coming from English Speaking countries.
Without localization, the app downloads would have been a mere 3000 only, of course coming from the English speaking countries, which was the major source of downloads.
2. Better Designed App Icon
Normally, the first thing that pops up when users find your app in the app store is your icon. Depending on how it looks, users can decide on further engaging the app, or moving to your competition. Consumers want to click on a logo that's not only simple, but also catchy.
Consumers are visual beings, and that's why visual marketing sells. Experts advise that you should use visual content to better attract prospects and make sure that they remember your brand. Research in fact shows that people retain only 10% of information they hear, while 65% will remember the same information when it is paired with an image. This reiterates the importance of a great app icon.
A better designed icon can increase your app downloads by up to 560%.  For most marketers, the question would be how to know the best logo or icon to use. Well, this is where A/B testing comes handy. You could also consider using ASO platforms or tools, which offer A/B testing services.
To prove how app icon optimization can boost downloads, Gaston Irigoyen, from Guidecentral, gave a talk at App Promotion Summit detailing how app store optimization, specifically paying more attention to the icon, resulted in 700% more app downloads.
In their case, they initially did not have the resources to pay for an icon and so they designed it themselves.  When they finally had the icon designed and tested, they were amazed at the tremendous effect it had.
Please note:
No matter how creative you want to be, always ensure that your app icon contains your brand colours to keep you recognizable.
3. Landscape Vs. Portrait Display
Across all devices and contexts, most apps have a mix of both portrait and landscape display. Turns out however, that you should consider what works best for your app. Most gamers for example, would prefer an app that has excellent landscape display, for better gaming experience. But, Angry Birds 2 developers, Rovio Entertainment, found out, a portrait display could lead to higher app downloads.
In their case, they ran a series of a/b tests to discover which combination of icons, screenshots, description, video preview and cover maximized the number of game installs. One of the experiments they did was on an iPhone, testing landscape/ horizontal screenshots. The difference between the variations was in how game characters and colour frame affected downloads, as shown in the image below.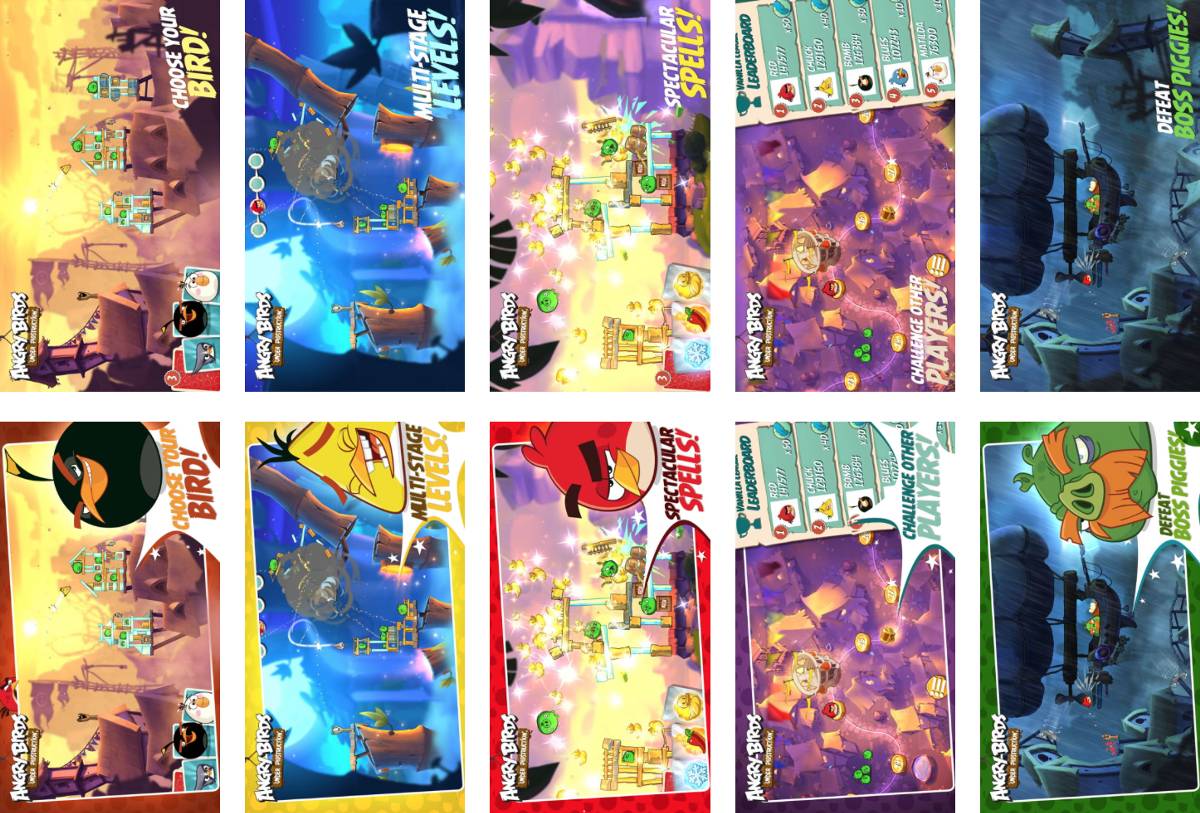 The second variation that instead focused on familiar characters, won, showing an increased conversion rate. At this point, the developers decided to test whether the portrait or landscape screenshots were the best to use.
Let's see the comparison between portrait and landscape screenshots: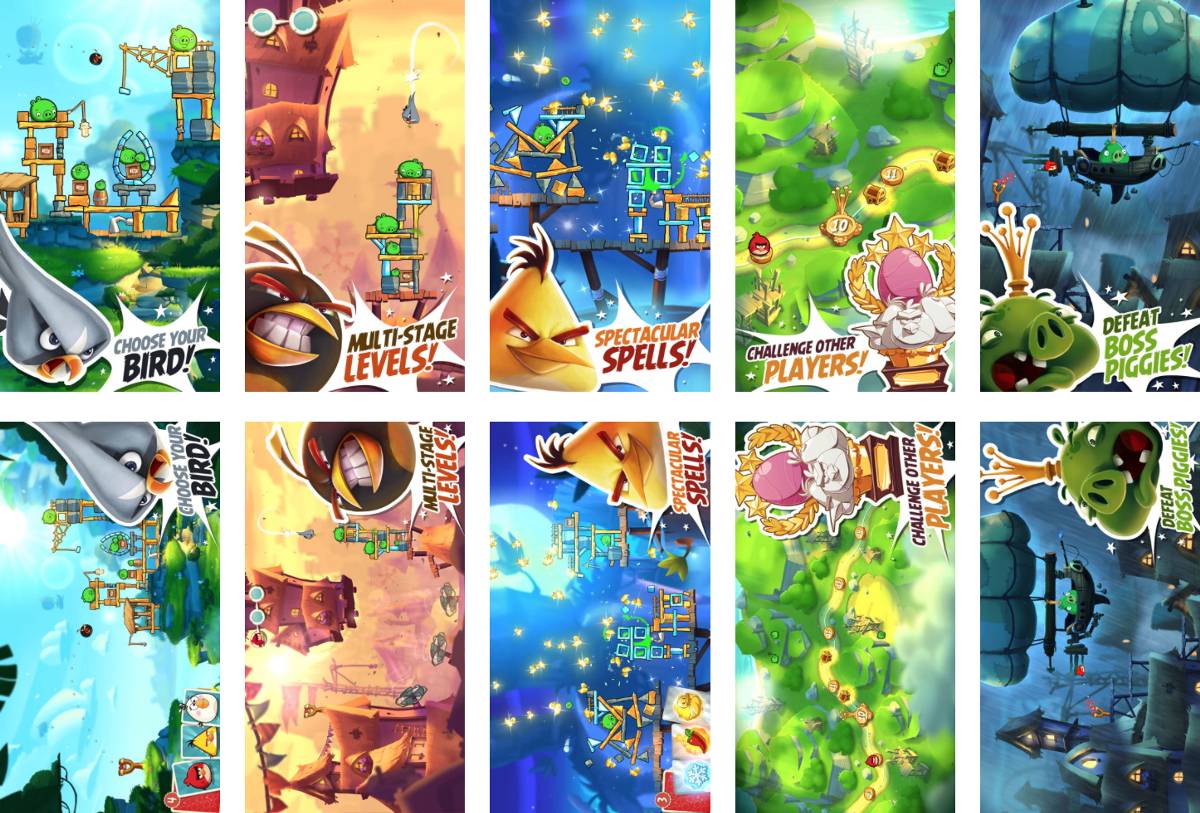 To their shock, they realized that portrait screenshots had better conversion than landscape screenshots. This led the team to understand something new about Angry Birds 2 market. These gamers had just one game on their phones, and were accustomed to using their phone in a portrait mode, explaining why it had the best conversion.
Lesson:
The lesson with this particular case study is pretty straight forward. There are normal industry trends that as a marketer, you understand. But sometimes, you need to run a/b tests to really understand your market, and better optimize your apps.
4. Improve Your Poster Frame
A poster frame is the still image or thumbnail that appears underneath an app's preview video's play button. It is designed to serve two purposes. One is to act as a standalone screenshot, and two, as the entry point to your video.
Usually, no matter how brilliant an app preview is, it will not yield desired results if the poster frame is not creative, and attractive enough to cause app page visitors to press the play button.
This is exactly what Kabam, one of the world's leaders in AAA console quality games for mobile devices knew. So, they set out to see how a great poster frame could affect ASO.
The developers created 3 variations for their app store page, and tested them on three hypotheses. They wanted to see if one, giving users a hint of what core game play looked like in the first impression would increase install rates; or, showing a game artefact that conveyed the message of progress and game achievements would increase download rates; and three, highlighting the brand in the poster frame, while maintaining a uniform message in the first impression, would increase engagement.
As a result, the following three page variations were tested.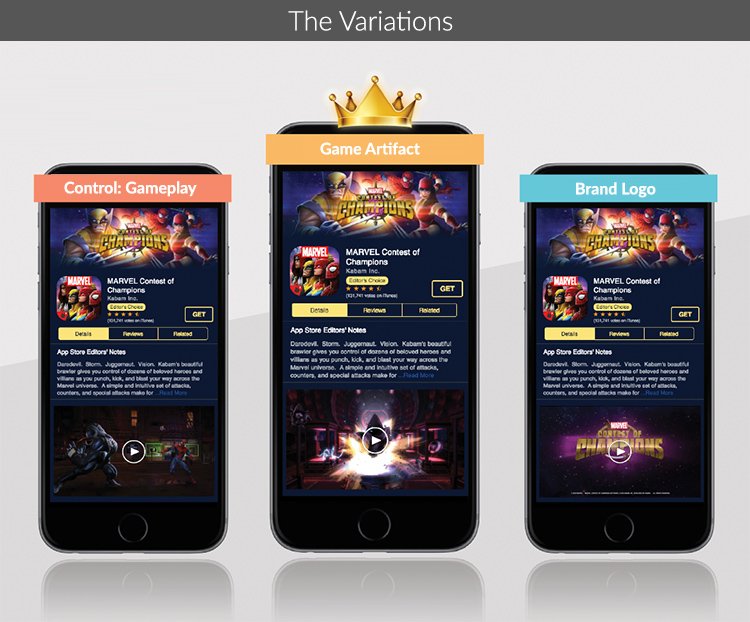 The game artifact variation proved to be the better frame, increasing app installs by 66%.
Next Steps To Take
It is true that ranking high in app stores can be an uphill task, but once done, the rewards are lucrative. One of the best ways to achieve this goal is by conducting App Store Optimization (ASO).
In reference to our discussion, you need to do the following:
Use the right keywords and description. Remember not to change your title once you settle on one, since this becomes your identity.
Incentivize happy customers to rate and review your app
Appropriately describe your app, giving a very clear value proposition
Localize keywords by country store
Get a better designed app icon. Retain your brand colors
Test between landscape and portrait displays
Improve your poster frame
Always do a/b testing. It's always about customizing your app to the needs of your clientele. What works for one app might not always work for the other, as Angry Birds 2 developers found out.
Do you have other tips that have proven helpful in your business? Feel free to share in the comments section below.