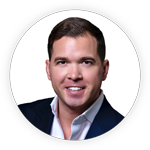 I hope you enjoy reading this blog post.
If you want my team to just do your marketing for you, click here.
App Store Optimization 101 – How To Boost Your App Store Ranking in 2023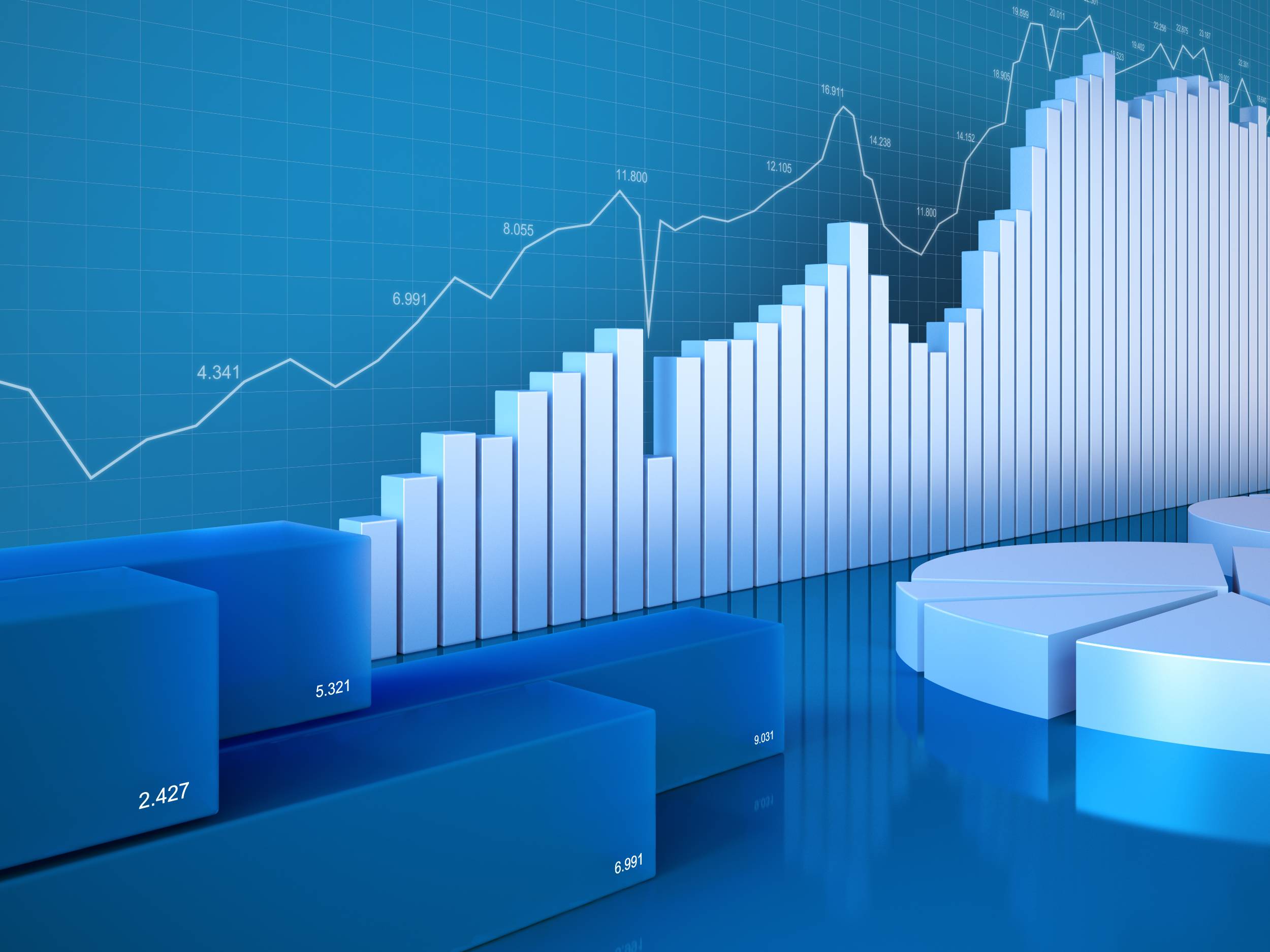 Table of Contents
1. The Link Between Mobile App Discoverability and App Store Optimization
2. What Is App Store Optimization?
3. Why Do You Need App Store Optimization?
4. The Main Factors That Influence Your App Store Ranking
Keywords In The App Title And App Description
Ratings And Reviews
App Description
5. Four Proven App Store Optimization Tricks For Improving Your App Ranking
Localize Keywords
Create a Stunning App Icon
Don't Make Assumptions About Landscape Vs. Portrait Display
Enhance Your Poster Frame
6. Over To You – Where to Start
With close to 2 million apps in the Apple App Store and over 2.8 million more in the Google Play Store, competition has never been stiffer between app publishers. Don't let that scare you, though – we've got just the right set of app store optimization strategies for you.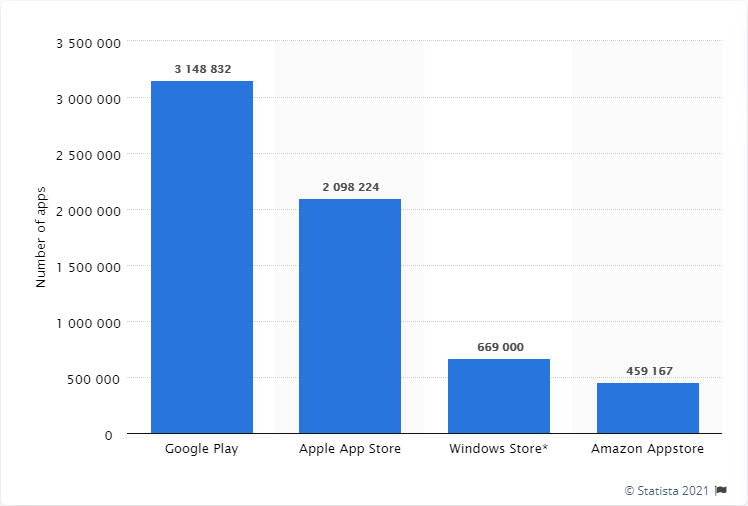 The Link Between Mobile App Discoverability And App Store Optimization
You see, as it turns out, most smartphone users discover their apps while browsing in the app store. 58% of Android users have learned about new apps while surfing around the Google Play Store, while 63% of iOS users admit to discovering theirs through the Apple App Store.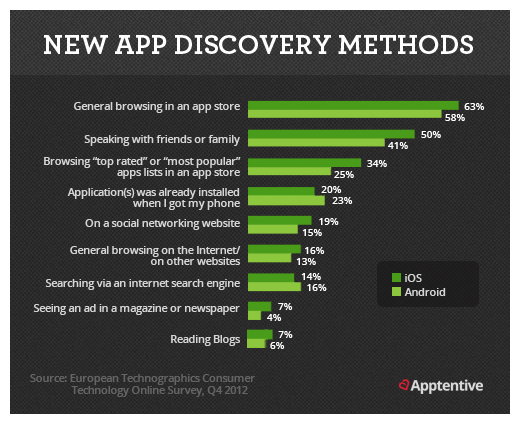 And that's not all. The rates increase even further when we consider the instances that users discover apps through browsing "most popular" and "top-rated" categories in the app stores – 25% for the Google Play Store, and 34% for the Apple App Store.
What does this mean for you?
Well, it's pretty evident that the Apple App Store and the Google Play Store are the best hunting grounds for new users. This is precisely where you should prioritize your mobile app marketing.
Fortunately for you, you've come to just the right place to learn about app store optimization. I'm not one to brag, but it just so happens that PreApps has, so far, helped 3,250 apps generate over half a billion app downloads.
As such, we invite you to tag along as we reveal all the app store optimization strategies that have been working for us. This guide covers it all – from your app title, app description, and app icon, to app store search, search ads, and keyword optimization.

What Is App Store Optimization?
Simply put, app store optimization is the process of optimizing mobile apps to rank higher in app store search results. The higher your app ranking in the Apple App Store and Google Play Store search results, the better your app's visibility.
Increased visibility will then lead to increased app discoverability, brand awareness, app downloads, app recommendations.
The goal is simple:
ASO=increased traffic to your apps page on the app store= increased app downloads.
Ok, fair enough. But then again, do you really need app store optimization to make it big?
Why Do You Need App Store Optimization?
Since apps are big businesses, app developers, app publishers, and app marketers are exceedingly trying to cash in as much as possible.
In 2018 alone, mobile apps generated more than $365 billion. That translates to about $1 in mobile app revenue per day.
According to Ankin Jain, the head of search and discovery for Google Play, 12% of all daily active Google Play users are looking for apps daily, and a whopping 50% of these Daily Active Users search for apps at least once a week. Consequently, the app store processes at least 6 million search phrases in one month!
What's more interesting is that people are still increasingly buying smartphones and investing in apps. So much so that the mobile application market size is set to expand at an average compound annual growth rate of 11.5% between 2020 and 2027.
Now that's certainly something you might want to capitalize on.
And speaking of which, we've already established that over 50% of both iOs and Google Play Store users perform general browsing on the app store to find the best apps, while others will browse for the top-rated or most popular apps.
In the same manner that you optimize your website or blog to rank higher in Google's search results, you need to put effort into making your apps more visible in app stores. Otherwise, you might end up with what is known as a 'zombie app'.
You see, in 2015, 83% of the apps in the app store had been categorized as zombies – up from 74% in the previous year. Some of them happen to be great apps, but with extremely poor app store optimization strategies.
The Main Factors That Influence Your App Store Ranking
As we've established, app store optimization is all about tweaking various elements within your app to boost its overall app ranking in the Apple App Store and Google Play Store.
In particular, you need to work on your:
App Title
App Description
App Icon
App Ratings
App Reviews
#1. Keywords In The App Title And App Description
Relevant keywords are just as crucial in-app store optimization as SEO.
In Jain's own words, the title is the most important piece of metadata. – in both the Google Play Store and Apple's App Store. Including relevant keywords in your app title and description has been proven by MobileDevHQ to increase your app store rankings by 10.3%, as shown in the image below.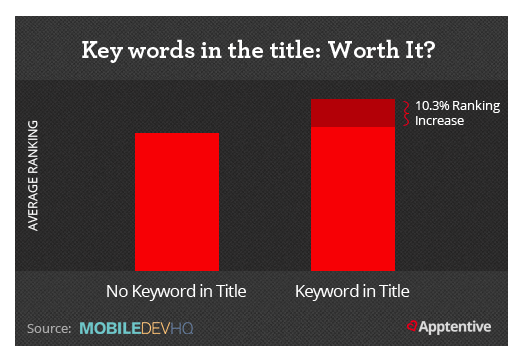 To establish the right keywords for your app title and app description, you could start by finding words and phrases that:
Have a high volume of searches,
Are particularly relevant to your app, and
Enjoy comparatively low competition.
Although some app marketers get these basics right, many have fallen prey to the myth that you need to change your title often in order to adapt to high ranking searches.
Such a strategy may seem smart at first, but it's ultimately detrimental to your ASO efforts.
According to Robi Ganguly, changing your app title over and over again will only create multiple variations that'll gradually confuse your target users. As news of your app spread, new users will experience difficulties locating it in the Apple App Store or Google Play Store.
Here's exactly what Robi said:
"Changing your title often to include different keywords can be detrimental. As your app begins to rank higher and gain more reviews, news of your app will begin to spread by word of mouth. Changing the title can make it difficult for word to spread about your app."
#2. Ratings And Reviews
Ratings and reviews have a very significant effect on your business for several reasons.
As revealed in the 2016 Online Review Survey Research, 84% of people trust online reviews as much as personal recommendations. So much so that poor ratings and reviews are bound to have a huge impact on your overall app store optimization efficacy.
The study went even deeper and established that that 90% of consumers read less than 10 reviews before forming an opinion about a business, and 74% of them trust a local business more when they read positive reviews.
What's more, the report emphasizes the importance of star ratings, as 58% of consumers believe that that the combined star rating of a business is the most crucial review factor.
Now, when it comes to the Google Play Store and Apple App Store, app ratings and reviews are relevant to not only users. While prospects use them to form opinions, it turns out that Google Play Store's And Apple's App Store's search algorithms consider them too.
If you keenly review the app store search results, you'll notice that the highest rankings are taken up by apps with great ratings.
Although this is an area of ASO that's important yet difficult to control, you can incentivize happy users to review and rate your app. After all, research has proven that 7 out of 10 consumers will leave a review for a business if they are asked to.
#3. App Description
While using the right keywords is good for your app description, you also need to use the opportunity to sell yourself. In other words, your app description ought to answer the question – Why should consumers go ahead and download the app?
When filling in your app metadata, you will notice that there are two parts – above the fold and below the fold. Usually, potential users will read the above fold part, and use that information to make their decisions.
Now that's exactly where you should float your value proposition, explaining why you are better than your competition, and what value the app will eventually add to the consumer.
The truth is, users care less about keyword optimization and more about how the app fits into their day-to-day lives.
Let's see how one developer did this:
This first image shows how the above fold description was used to show the business's value proposition.

The second image shows what happened when 'more' was clicked, revealing a more detailed description of the above fold description.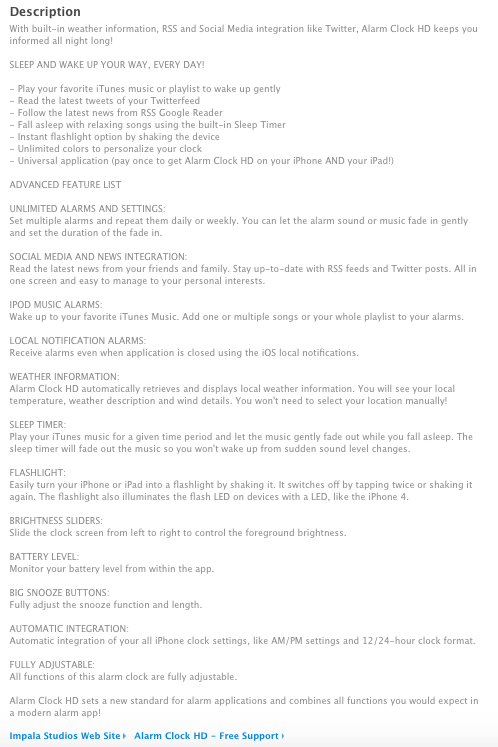 Four Proven App Store Optimization Tricks For Improving Your App Ranking
Even when you've considered all the main factors that could favor your app visibility to app store search algorithms, you need to be smart in how you place your app in the app store.
Different businesses have gotten creative on how they use the app store, and as proven by the case studies below, a little tweak could increase your app downloads tremendously.
#1. Localize Keywords
As a common practice, Android and Apple both have country-specific stores that their site visitors use based on their language and location. This alone makes app localization a very brilliant app store optimization hack.
You could, for instance, borrow a leaf from Make App Magazine, which managed to boost its app installs by 767%. All it took was localizing the apps' keywords, and voila!
The whole project began with an analysis of the apps' traffic sources. Here's the typical distribution they observed before localizing the apps.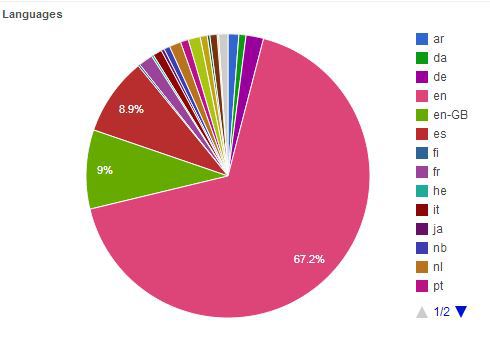 From the chart, you can tell that over 76% of the app's traffic seemingly came from English-speaking countries- such as theUS and the UK. They cumulatively accounted for over 67%, while Spanish followed at 8.9%.
Janner subsequently decided to localize one of his apps, and then he noticed a stark contrast in distribution. The app suddenly started attracting renewed interest from non-English-speaking countries, including Russia, France, China, Japan, and Italy.
He even proceeded to create a pie chart to find out how the language distribution had changed after localization, and the results were shocking, as shown below.
Now, to put this into perspective, here's basically what happened:
Before localization, English made up 76% of all the app downloads, which subsequently changed to 10% once non-English speakers joined the bandwagon.
All in all, keyword localization managed to push the app downloads to about 23,000 per month, with only 2,300 coming from English speaking countries.
Without localization, the app downloads would have stagnated at 3,000 – with the majority coming from English speaking countries.

#2. Create A Stunning App Icon
Normally, the first thing that pops up when users find your app in the app store is your app icon. Depending on how it looks, users might decide to engage the app further, or alternatively, move to a competitor with a better app icon.
App Store users tend to favor app icons that are not only attractive and catchy, but also satisfyingly simple.
The simple reason is, consumers are visual beings. As such, experts advise that you should use visual content to attract prospects and leave a lasting impression.
What's more. research has proven that people retain only 10% of the information they hear, while 65% will remember the same information when it is paired with an image. So, of course, a well-designed app icon is bound to make a greater impact on prospects than your app description. You could even increase your app downloads by up to 560%.
Now that begs the question – how exactly do you determine the best-designed app icon?
Well, this is where A/B testing comes in handy. You could also consider using App Store Optimization tools that offer A/B testing services.
To prove how app icon optimization can boost downloads, Gaston Irigoyen – from Guidecentral – gave a talk at App Promotion Summit detailing how app store optimization, specifically paying more attention to the icon, resulted in 700% more app downloads.
In their case, they initially did not have the resources to hire an icon designer. And so, they proceeded to design it themselves. Then when the time came to roll out their new app icon, they were amazed at the tremendous effect it had on their overall app store optimization strategy.
That said, please note that no matter how creative you want to be, always ensure that your app icon contains your brand colors to keep you recognizable.
#3. Don't Make Assumptions About Landscape Vs. Portrait Display
Across all devices and contexts, most apps have a mix of both portrait and landscape display.
As it turns out, however, they don't always work out as planned. Instead of choosing a random orientation, you should carefully consider what works best for your app.
Imagine, for instance, that you're developing a gaming app. You'd probably try to run it on a landscape orientation, believing that gamers prefer such a display experience.
Sorry to burst your bubble, but it's not that simple – even when it seems rather obvious.
Take the case of Angry Birds 2, for example. Its developers, Rovio Entertainment, discovered that a portrait display triggered more app downloads than landscape orientation.
They made that conclusion after running a series of A/B tests on various combinations of app icons, app screenshots, app descriptions, video previews. Their principal goal was to determine how various game characters, app store optimization elements, and color frames affected the app download numbers, as shown in the image below.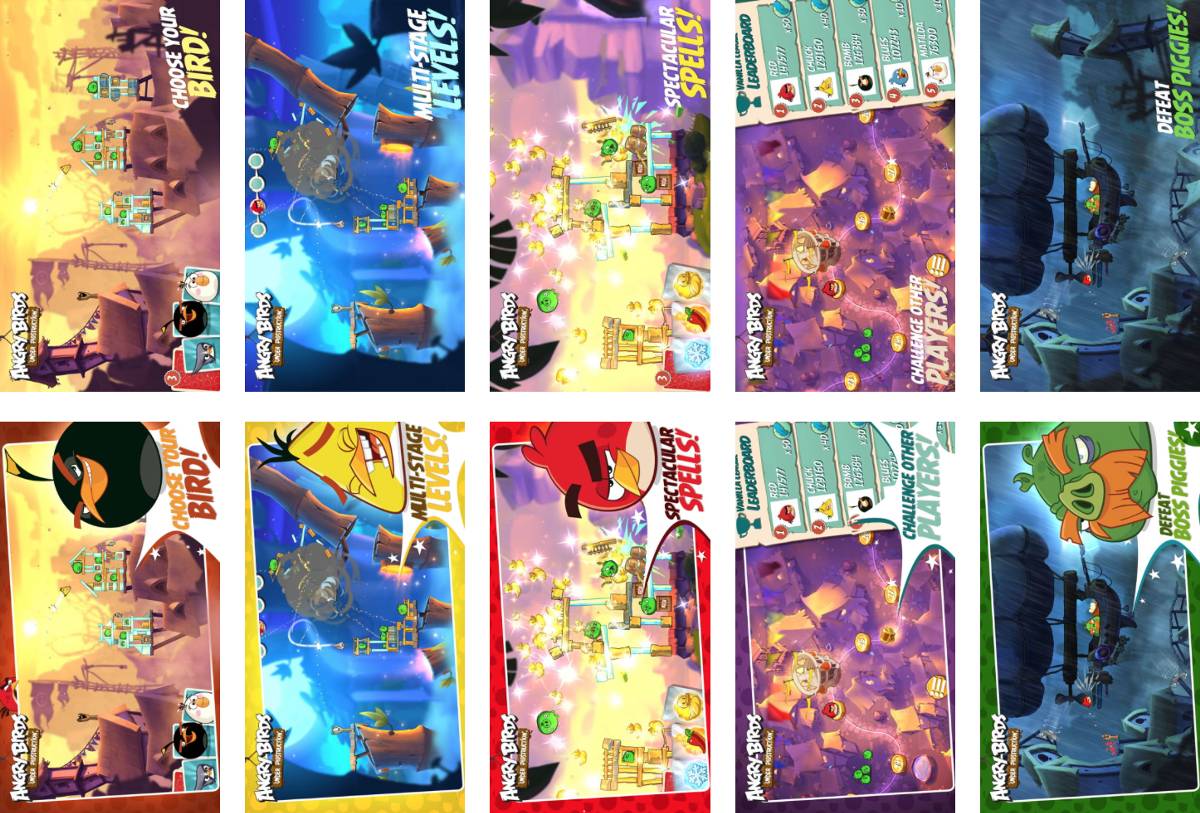 After establishing that familiar characters, won, showing increased their app conversion rates, they proceeded to test them out on portrait or landscape screenshots.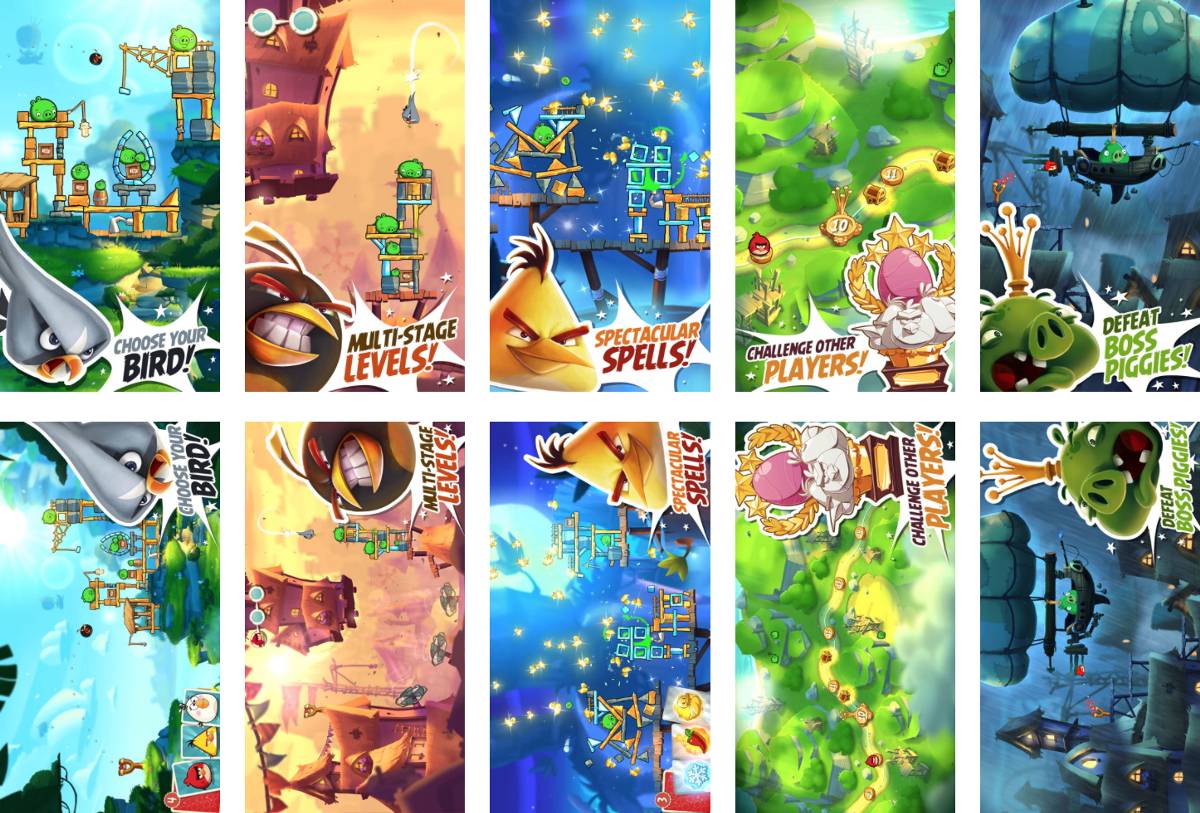 To their shock, they realized that portrait screenshots had better app download and install rates than landscape screenshots.
This led the team to understand something new about the Angry Birds 2 market. That gamers, at the end of the day, are just like other smartphone users. They are all accustomed to using their phone in portrait mode. Hence, most of them are bound to relate better with portrait displays.
Lesson:
The lesson with this particular case study is pretty straight forward. Don't make assumptions about industry trends and user preferences. It pays to run a/b tests even on stuff that might seem rather obvious. That's how you get to understand your market and improve your app optimization.
#4. Enhance Your Poster Frame
A poster frame is a still image or thumbnail that appears underneath the app preview video play button. It is designed to serve two purposes – to act as an independent screenshot, as well as show a snippet of your preview video.
Usually, no matter how brilliant an app preview is, it will not yield the desired results if the poster frame is not well-thought-out. It should be creative and attractive enough to encourage app page visitors to press the play button.
That's exactly what Kabam, one of the world's leaders in AAA console-quality games for mobile devices, did to boost their app installs. But first, they set up tests to establish the best poster frame for app store optimization.
The developers created 3 variations for their app store page and tested them on three hypotheses. They wanted to see if one, giving users a hint of what core gameplay looked like in the first impression would increase install rates; if showing a game artifact that conveyed the message of progress and game achievements would increase download rates; and three, if highlighting the brand in the poster frame, while maintaining a uniform message in the first impression, would increase engagement.
As a result, the following three-page variations were features in their tets.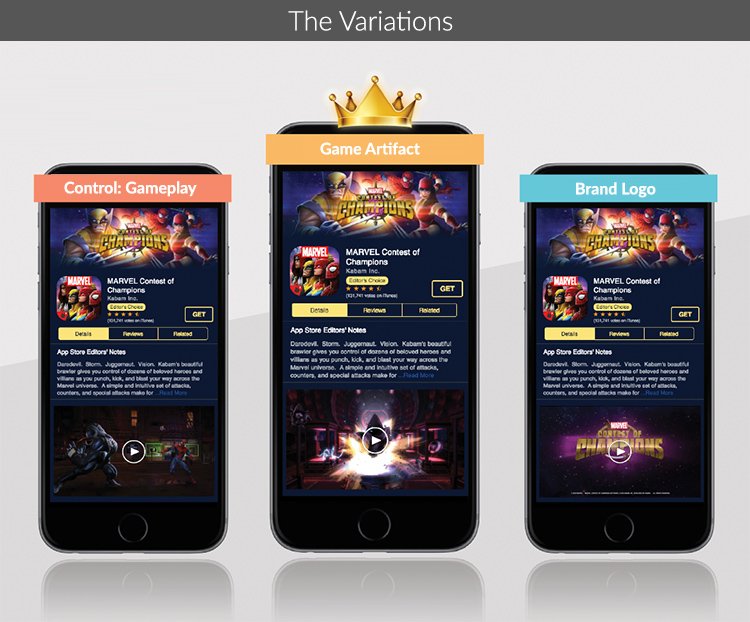 The game artifact variation proved to be the better frame, increasing app installs by 66%.
Over To You – Where To Start
Although achieving a high ranking in app stores can be an uphill task, the rewards are lucrative. So, it's evident that whichever way you look at it, app store optimization is certainly worth the investment and effort.

In reference to our discussion, you could start by doing the following:
Use the right keywords and description. Remember not to change your title once you settle on one – since it eventually becomes your identity.
Incentivize happy customers to rate and review your app
Appropriately describe your app, giving a very clear value proposition
Localize keywords based on your target countries app stores.
Get a better-designed app icon, and remember to retain your brand colors
Don't make assumptions about landscape and portrait displays. Rather, conduct tests to make an informed decision.
Improve your poster frame
Always conduct A/B testing to determine what works best for your app and what doesn't.
Do you have other tips that have proven helpful in your business? Feel free to share them in the comment section below.
App store optimization is easier said than done. So, you can get in touch with us and we'll help you sail through the process!