When you Google the term "App Marketing," hundreds of strategies, tactics, and temporary growth hacks pop up into your search results. It seems like everyone has discovered the secret to increasing app user acquisition and  "guarantees" instant results.
Now, there is certainly plenty of sound advice out there from people who have successfully marketed their own apps. But just because a strategy worked for them does not necessarily mean it will work for you.
So, which strategies will take your app to the next level?
What should you focus your attention and resources on to achieve your goals?
Well, I'm going to let you in on a little secret:
Many of the top apps on the market boil their marketing initiatives down into three categories.
Here at PreApps, we call these categories the User Acquisition Machine. I'm going to share how you can use the User Acquisition Machine to attract high-value users at an affordable cost.
But before we dig into that, I want to tell you a story.
I was recently consulting with a multi-billion-dollar app in the social networking category at our agency. On our last call, they shared what was working well with their marketing efforts, what they needed help with, and what their focus point was for this year.
When going through their current initiatives, it was clear why certain things were working well and why others were not. Since they had already implemented the fundamental marketing initiatives, we were able to make little tweaks in these strategies, which led to massive results.
Out of the dozens of strategies this billion-dollar app was using, they can all be summed up into three categories.
It doesn't matter if you have 0 downloads or over a billion downloads. Ultimately, there are three ways to acquire users to your app.
It's my goal that with these three categories, you will simplify the way you think about app marketing and how to get more downloads and users to your app at an affordable cost.
So, let's jump in!
Category #1: Organic Customer Acquisition
The organic acquisition method includes every channel that drives users to your app, who naturally discover and download it. Something you may not know, however, is that a majority of all app downloads in the world don't come from Facebook ads, or google ads, or even word of mouth.
Organic app downloads typically make up the majority of all acquisitions. In fact, it is estimated that 69% of App Store downloads come strictly from organic searches!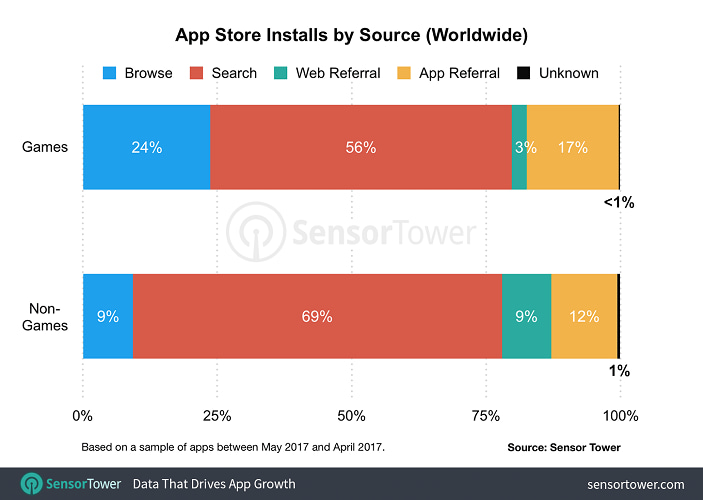 So how do you increase your organic downloads?
Well, this is the traffic you can't control because, for example, you can't say "I want 1 million organic downloads next month, and you can pay "x" amount to get it through Facebook ads."
It's something you have to work towards.
It is done through App Store optimization, PR, viral video marketing, and getting your app featured by apple.
Believe it or not, Apple has reported that the App Store alone gets over 500 million weekly visitors worldwide. That's 2 billion visitors per month that can potentially download your app. Isn't that amazing?
Getting in front of these users and having your app ranked at the top of the search results isn't easy. It takes hard work. Some of the best ways to improve your app store optimization strategies for organic searches include:
Creating a unique but easily searchable name.
Incorporating keywords into your name and app description.
Showcasing quality screenshots or videos of your app.
Offering multiple language options.
Encouraging users to leave reviews.
This helps to make your app page more "searchable" – even if the user is not looking for your app specifically.
Category #2: Paid Traffic
This is the traffic you can directly control and scale very quickly. This type of app user acquisition method includes Facebook ads, influencer marketing, programmatic ads, YouTube ads, and any other channels that have a cost per download method.
This is something that the top apps implement to grow very quickly – but it can be expensive. On average, it costs about $2.20 per download here in the United States to advertise on social media accounts like Facebook, Twitter, or Instagram.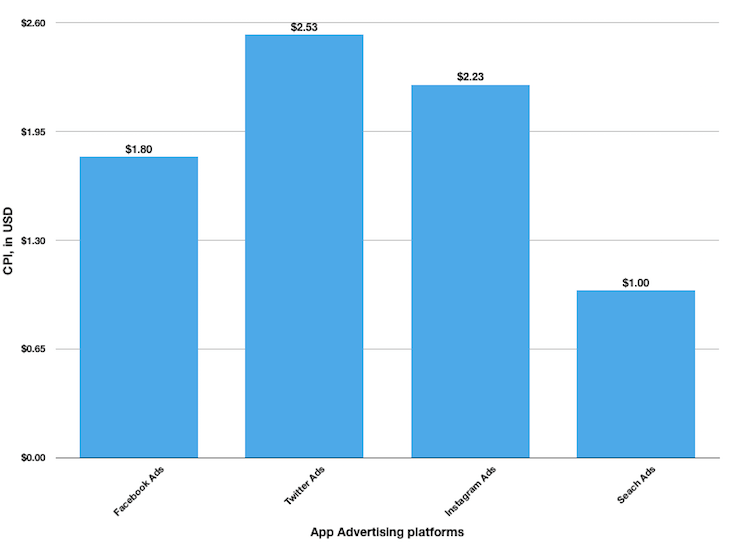 So, if you want 100,000 downloads, it will cost you an average of $180,000 to get them through Facebook ads. On Twitter or Instagram, it will cost you over $200,000.
If you do paid traffic, we recommend focusing your initial resources on Apple Search Ads, and Good Search UAC instead of just social media paid advertising.
The reason why we recommend running Apple Search Ads or Google Search UAC instead of Facebook, Instagram or Twitter ads is because the more that you spend on Apple Search Ads, the more your organic growth will increase directly on the App Store. This due to Apple owning and managing both Apple Search ads and the App Store itself.
On the other hand, social media ads are a one-to-one exchange. With them, you will spend $2 or so and get one download. If you focus on Apple Search Ads, you can double your downloads in half the cost.
The ultimate goal is to turn the traffic you can control and pay for into traffic you own.
Category #3: Leveraging Your Existing Users
Leveraging your existing users involves using your own user base of people who have already downloaded your app, as well as people on your email list, and using any other app you own. Consumers rely heavily on other people's opinions when it comes to making purchases. So, whether they hear about your app through word of mouth or they see lots of buzzes and good reviews for it online, they will be more inclined to check it out.
You can tap into existing users as a customer acquisition strategy to share your app with wider audiences. Having your existing users share your app for you is critical. This is a huge contributor to Uber, Instagram, and Spotify's early growth.
For example, Uber's co-founder Travis Kalanick, back in 2011, stated, "Ninety-five percent of their riders have heard about Uber from other Uber riders. For every seven rides they do, those users generate a new rider." Think about that for a second. He's saying that for every seven rides they do, they get a new rider simply from their existing user base.
Imagine if you could do that with your own users?
Well, you certainly can – but you may need to incentivize them to do so.  Few people will share reviews or refer it without receiving something in return.
You have probably noticed that nearly all apps use this approach to build an effective referral program. Users are typically given a unique promotion code that can be shared with new users to earn a reward, such as a discount on their next purchase.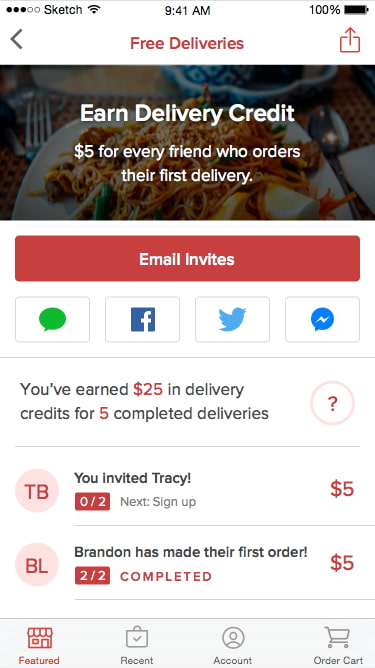 Key Takeaways
There are three components to the app user acquisition machine which work together to attract users to your app.
69% of all app downloads come from organic customers through search features on the App Store platform.
To increase organic users, you must optimize your app page by incorporating keywords, images, and reviews.
You can control paid traffic by investing in in-app marketing – but you should be picky about which channels you utilize to run ads.
Leverage your current users to attract new customers through incentives.
Your Next Steps
The main point is, if you want to be successful and reach millions of downloads, your marketing channels can be boiled down to these three sources. I encourage you to consider which of these three pieces of the app user acquisition machine are you currently lacking?
Where are the majority of your downloads coming from now? Is it organic, from App Store Optimization? Paid traffic through Facebook ads or referrals from word of mouth from existing users?
Think about where you need to focus your time and resources.
Now, I bet some of you listening right now are thinking, "Wow, this is a lot to manage!"
Well, it is. App marketing can be incredibly overwhelming, especially when you have a lot on your plate already with your business.
Luckily, you don't need to do it all on your own.
In fact, you're not meant to. You can only be as successful as the team of experts you surround yourself with. Our team at PreApps is a marketing agency that works exclusively with app owners to help them improve their customer acquisition strategy through better mobile app marketing.
Contact us to receive a free consultation to discuss an app growth strategy plan designed specifically for your business.
Bonus
If you have an app currently in the App Store or Google Play, I have something for you. Our team created very special software that I'd like to give you access to for free.
We have created a special tool that tracks over 2M data points on the App Store and will grade your app marketing performance.
You simply enter your app name and let our tool do the rest.
If you want access to this special software tool, head on over to  AppReport.PreApps.com to discover ways to increase your user acquisition numbers and grow your app!