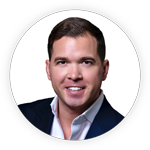 I hope you enjoy reading this blog post.
If you want my team to just do your marketing for you, click here.
5 Mobile App Growth Hacking Lessons From A $19 Billion Dollar App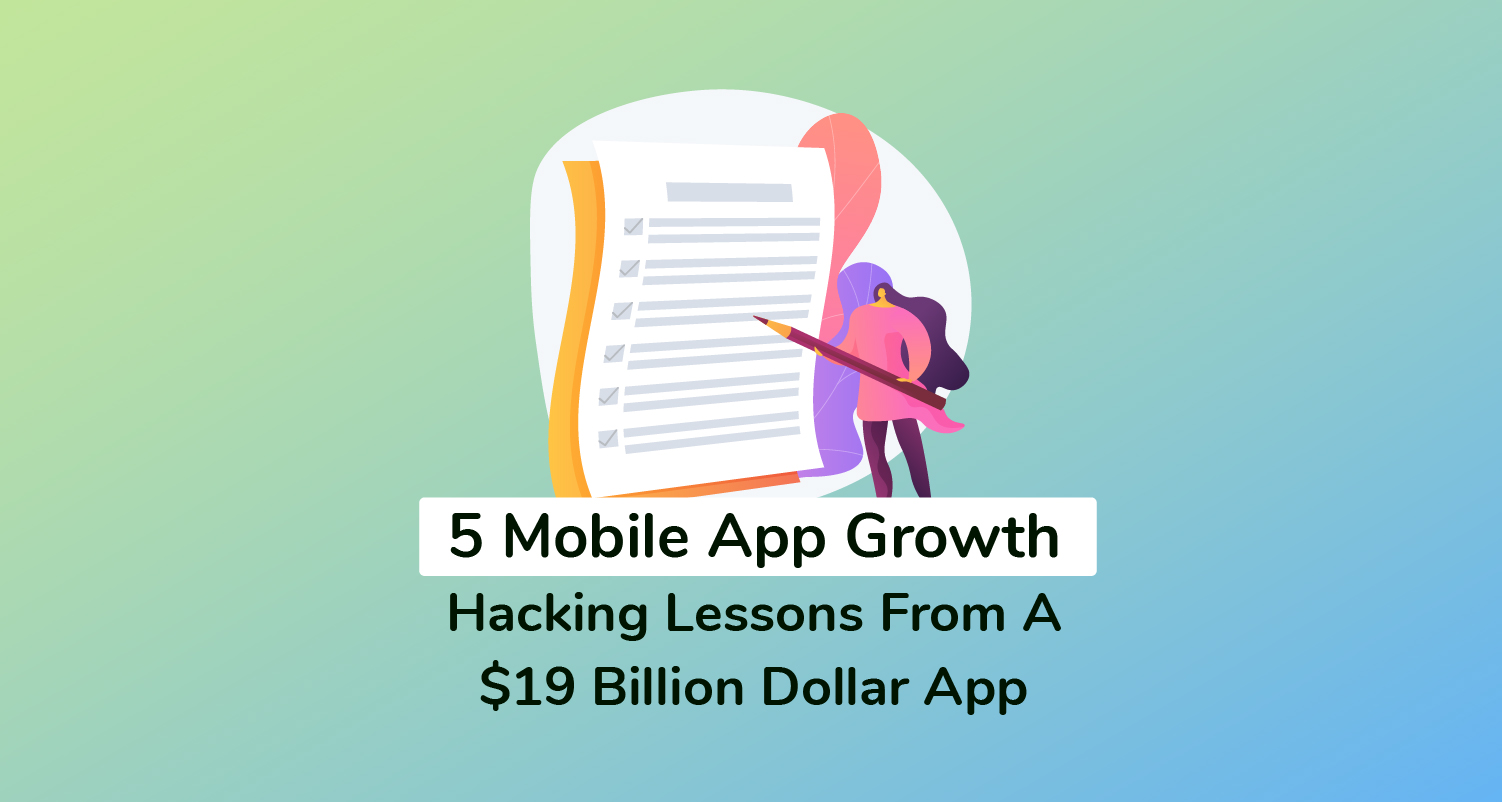 Table of Contents
The Biggest Mistakes Creators Make Which Hinders App Growth
Have The Wrong Philosophy
Giving People What They Need, Not What They Want
Making An App Your Users Need
How To Know What Your Users Want
Applying Customer Service To Your App
Although mobile app growth hacking strategies can be traced as far back as the debut of the mobile app industry in 2008, most of the tactics that were effective then are pretty redundant today.
You see, at that time, the Apple App Store only had about 500 mobile apps. The situation has changed considerably since then, as the App Store today has over 2.2 million apps available for download. That translates to a lot of competition between mobile app publishers, app marketers, and growth hackers – as they try to outdo each other in the scramble for mobile users.
In such circumstances, understanding the formula to app growth hacking isn't something that happens by accident. After all, there are millions of APp store apps that have been launched only to fail shortly thereafter.
So, tell you what. Today I'm going to help you out by giving you insights into:
How to successfully launch a mobile app.
How best to trigger mobile app growth.
How to drive mobile app downloads and user acquisition.
The common mistakes you should avoid in your mobile app growth hacking strategy.
What to include in your mobile app growth hacking strategy.
Please note that everything we'll be covering here are proven lessons that I've picked up from the growth hacking strategies of various successful mobile apps, including a $19 billion dollar app.

Mobile App Growth Hacking: Where It All Begins
Here's the truth: every successful mobile app you see out there at the top of the App Store –  the ones with billion-dollar status – all started where you are today.
They all started at the bottom, with zero mobile app users and almost non-existent traction in the App Store.
Yes, that's right. All the successful mobile apps today have, at one point, been at your current position. It doesn't matter whether you're in the process of launching an app, or if you've already had some initial success on the App Store.
I know that might be hard for a lot of us to relate – since you don't often hear about these growth hacking success stories in their early years. And that's not all. You may have also never heard about the failures that the top mobile apps have faced. Often, you only hear about them after they've made it to the top of the App Store or Google Play Store.
So, here's a full breakdown of the mobile app growth hacking strategies they've been applying, along with the primary mistakes you should avoid while you're at it.
The 2 Biggest Mobile Growth Hacking Mistakes
First, let's start with what not to do if you want to achieve app growth.
1. Have The Wrong Growth Hack Philosophy
I have a question for you: What's the single, worst decision you can make with your mobile app?
The answer is simple: build an app that no one wants.
One of the biggest mistakes that app creators make is falling so in love with their own product that they miss out on what users actually want.
I was speaking with a mobile app developer this week who has been working on a new dating app. He was telling me that they are six months behind on their App Store launch because he wants to make sure the app had five additional unique features added before launching.
You see, the problem is, he was wasting time and money building features that users didn't actually want or care about. What's even worse is that this app developer had no idea that these features were totally unnecessary.
Too many app creators fall into the mobile app development trap of creating and building apps with tons of features they believe users want. This is the "if you build it, they will come" philosophy that stands in the way of app growth hacking.  If you're not a user-centric app business, you will struggle to remain relevant in the future.
2. Giving Users What They Need, Not What They Want
There is another misconception that I have found which wastes app creators tons of time and money. This is the belief that they need to spend months (or sometimes years) building an app they believe people "need."
The problem with that method is that just because someone "needs" something, it doesn't necessarily mean they "want" it.
For example, most people in the United States "need" to lose weight. But do they? Most people "need" to floss their teeth every day. But do they?
There are a lot of things people "need" to do, but they simply don't do them. Not because it's hard for them – but because they simply don't want to.
I speak with so many mobile app developers who make the mistake of caring too much about their product and features and not enough about the actual user's wants and desires.
In case you're wondering, the answer is yes. I've actually been there myself. I made the mistake of becoming obsessed with my mobile app's features and not my potential use case. All this unfolded when I was launching my first few apps on the App Store over nine years ago.
But, thankfully, I learned early on that just because I liked a particular feature or design didn't mean that my users did as well.
In a world of constant changes, you should fall in love with your users – not the product.
Remember, 56% of users will uninstall a mobile app after just one week! And the leading reason that people delete a mobile app is simply that they have no real use for it, and it does not give them what they want.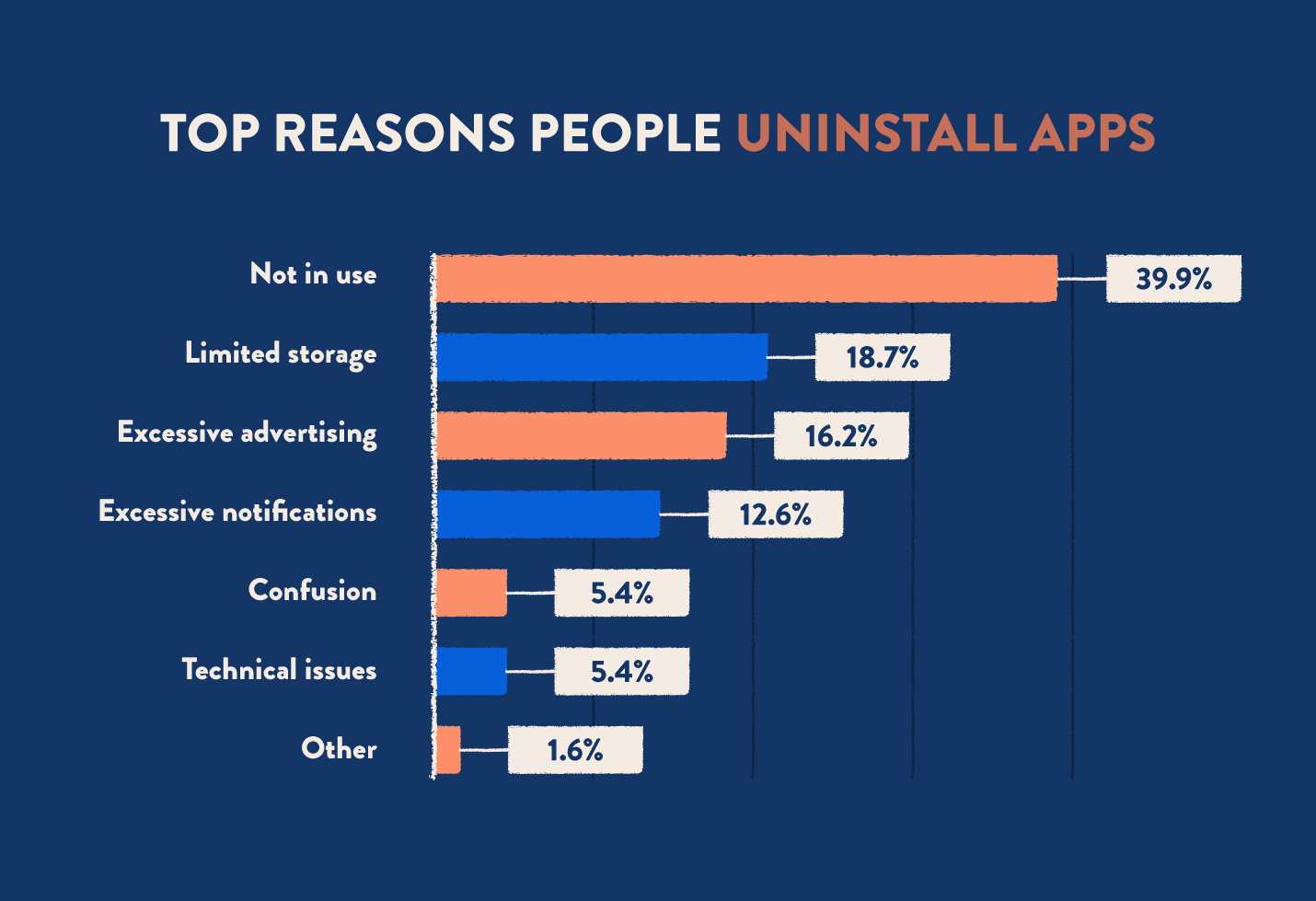 You could be your mobile app's #1 fan and love everything about it. But, if your customers don't want it or see no purpose for it, your app will become irrelevant very quickly.
So, instead of obsessing about what you'd like to see on the mobile app, you should ask yourself: Why should people want your app? Why should they feel compelled to click on your App Store app icon to download the app?
The key to real app growth hacking is to market to what your users want – then give them what they need.

3 Successful Mobile App Growth Hacking Strategies
#1: Making An App Your Users Need
In the book The Lean Startup, Eric Ries explains the first step to creating a product people want is by starting with a "minimum viable product" and improving it based on user feedback.
Unfortunately, this is contrary to what most app developers do. They usually launch what they believe is their perfect final product, which is a huge mistake that generally stands in the way of long-term mobile growth.
Now, let me tell you a story of a $19 billion app that almost made this disastrous mistake.
In the Springtime of 2009, after two decades working at Yahoo!, two software engineers named Jan and Brian were quickly reaching a saturation point in their jobs. They agreed that it was time to make a career change.
So, they started their own company and built a "status" update mobile app. The idea originally came from Jan, who wanted to let everybody know that he was busy at the gym when people texted him.
The problem was that the iteration of the app didn't work at all. It failed. They launched and very few people gave it a second look.
Both Jan and Brian had really high hopes for this mobile app as they both had quit very high-paying jobs at Yahoo! to create it. They spent a good amount of time and money, yet the initial iteration failed.
The problem was, no one wanted or needed a basic status update app. It was created based on Jan's assumption that it was something people needed simply because he wanted it.
After realizing the idea wasn't working out as he had intended, Jan wanted to quit and go back to his 9-5 job. However, Brian – who was the financier and co-founder – managed to discourage him from leaving the startup.
Jan and Brian felt stuck. But then they came up with a plan that stemmed out of a conversation with some of Jan's friends back home in Ukraine, They told Jan about how they wanted to be able to message him in the United States for free and not have to pay the 40 cents per message that it cost at the time to text internationally.
Based on this feedback, Jan and Brian started thinking about adding a messaging feature to their mobile app. That's when the outline of the new app started to take shape. Ultimately, they launched a mobile app that offered free and easy instant messaging with others, along with push notification alerts.
Shortly after the relaunch, the mobile app exploded across the globe getting tens of millions of organic app downloads!
It had solved an unmet need in the market. Something people truly wanted. And that's the story of how WhatsApp was started before it became a hit on both the App Store and Google Play Store.
A few years later, Facebook acquired WhatsApp for a whopping $19 billion, making it the biggest mobile app acquisition at the time.
Currently, WhatsApp is the most used messaging app across the globe. It has also continued on an impressive app growth trajectory – outperforming even similar mobile applications from social media giants like Facebook Messenger, Twitter, and Skype.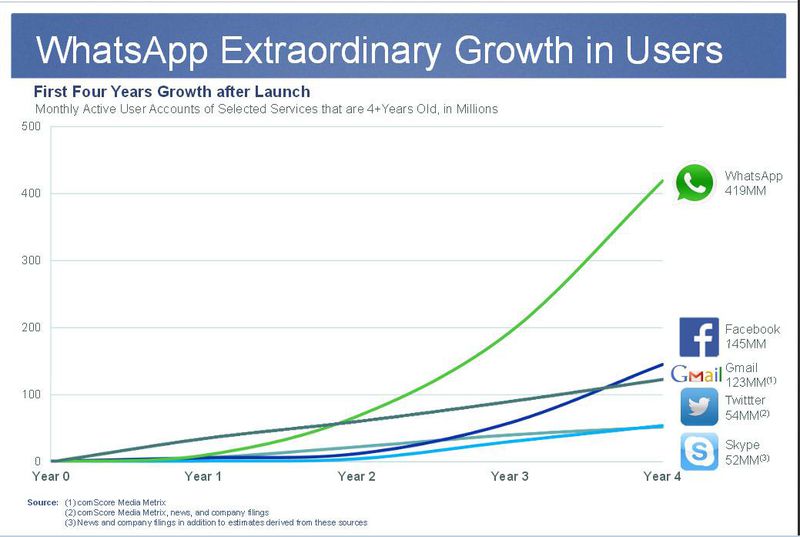 The point of this story is that if Jan and Brian had continued with the original status update app idea based on what they thought users needed, they would have inevitably run out of both time and money.
Instead, they did what most app developers don't do. They allowed WhatsApp to evolve based on what their users wanted instead of what the creators thought people needed. It shifted because of a simple feature: free international instant messaging.
The creators didn't fall in love with their product. Instead, they fell in love with their potential users and continue to do so today.
So, whatever your current app idea may be, I encourage you to stay open to pivoting based on user feedback if you truly want to succeed. Successful innovation requires you to become obsessed with solving your customer's wants and needs better than anyone else on the market.
#2: How To Know What Your Users Want
A common question I get asked is: how do you get to Product-Market-Fit? How do you know if it is what users want?
The first step to getting to your Product-Market-Fit is to have the humility to continually alter your product based on your users' engagement and feedback. To continually optimize it to the point that active users want to use it on a regular basis – and share it with others.
The main lesson learned from the $19 billion dollars WhatsApp story is, you should always create a user-centric mobile app.
Most App Store apps are created just because the founders thought it was an ingenious idea. They typically build a prototype, spend months refining and creating the actual app, only to discover much later that users don't want it or have no need for it.
At the Worldwide Developer Conference back in 1995, Steve Jobs shared a profound statement about how Apple creates new products. Steve Jobs said:
"What I have found is, you have to start with the customer experience and work backward with the technology. Not the other way around. You can't create the technology, and then try to figure out how to sell it…. As we came up with the vision and the strategy for Apple, it started with what incredible benefits, and experience, can we give the customer. We did not sit down with the engineers and figure out what awesome technology we have, and how we can market it."
Two years later in 1997, at the same conference, Steve Jobs said,
"At Apple, we always start with psychology, and then we figure out the technology… We start by discovering what people want and then find the most beautiful and simplistic way to provide it. Then step two, is to actually figure out the way to build it."
You see, those who fall in love with their products eventually disconnect from the needs of their customers. Since Steve Jobs created the app industry, wouldn't it be wise to follow his advice with your own mobile app startup?
People are loyal to the experience, not the product. This is what should drive innovation when it comes to your user acquisition strategy.
As American poet Maya Angelou once beautifully shared, "People may not remember exactly what you did, or what you said, but they will always remember how you made them feel."
The real secret to continuous mobile app growth hacking is this: putting the user first. This is a major difference that will lead to your success or failure in the mobile app industry.
With millions of apps currently on the market, there are many that may offer a similar solution to yours. Your best differentiator is the experience you offer to your users. That's what ultimately drives app downloads and installs.
#3: Applying Customer Service To Your App
Another common question I get is, "What does it mean to have a better customer experience? How can I apply it to my app?"
One of my favorite descriptions of Customer Experience is by a man named Carlos Angel.
Carlos Angel is the Marketing Manager plus Growth marketer at Uber, and he once described Customer Experience as, "The perpetual optimization of customer value, and success, through data-driven, growth marketing activities."
I can't stress enough how important it is to build your product around the audience you serve. The experience that your users have with your app far outweighs the time spent on app features or acquisition strategies. It is what determines mobile app growth over time.
A recent survey from PwC found that 42% of consumers would be willing to pay more for a better customer experience.
And what makes this digital experience better? Efficiency, convenience, and overall ease of use.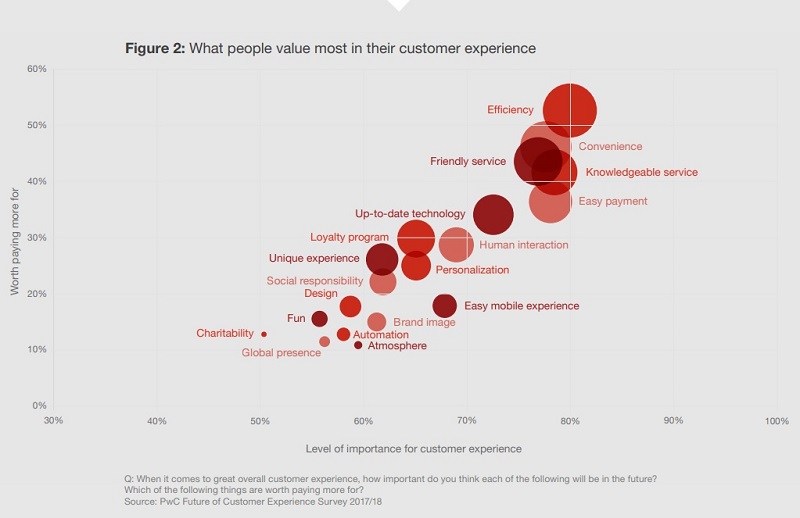 If you can create an irresistible customer experience, you're steps closer to having a profoundly successful app business.
Key Takeaways
The "if you build it, they will come" approach has been the downfall for many apps.
Most apps have had less than successful beginnings. The key to ensuring that you achieve long-term mobile app growth hacking is knowing how to launch an app correctly and adjusting as needed.
The worst mistake you can make is building an app that no one actually wants simply because you think that people need it.
Don't get too wrapped up in unique features or design – keep your focus on creating an app that people will actually want to use.
Fall in love with your users rather than the product and ask yourself: "Why should people want your app in the first place?"
Don't be afraid to change your app's purpose in order to match up with the market's demand – just like WhatsApp did.
You can find out what your users want by focusing on the customer experience and then adding technology to solve the problem.
The secret to long-term mobile app growth hacking is putting the user's needs, wants, desires, and experiences above all else.

Your Next Steps
Overall the key lesson today is to market what your users want and give them what they need.
If you care enough about the solution you provide and are creative enough, there is no limit to what you can build. You just need to fall in love with serving your customers' wants and desires.
You should always ask yourself: are you falling in love with your product or your potential users?
If you need help with making your app user-centric and/or your app marketing strategy, you can apply to speak with one of our Mobile App Growth Hackers on a free strategy call to see how we can help.
Our goal at PreApps is to help mobile app developers create the ultimate customer experience and attain successful, continuous mobile app growth through effective app marketing and user acquisition strategies.
Reach out to our team today to get started on your growth strategy.