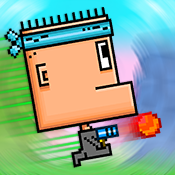 After two years of development, Big Head Gunner can finally save his prince. Boasting groundbreaking touch screen controls, this new game app features Gunner, the hero of the Acorn Kingdom, who sets out to rescue Prince Akoki from the evil King Chameleon.
This game epitomizes the integration between modern iOS and the typical retro 2D platformer. Big Head Runner has 9 elemental worlds, 36 unique levels (with sublevels to boot), 180 stars to collect, 9 exhilarating boss battles, and 9 bonus games. With over 50+ hours of gameplay and an adorable 8-bit soundtrack, this game promises to deliver an experience not unlike that of Super Mario Brothers.
In fact, the gameplay is almost too close to that of Super Mario Brothers—the main exception being that a prince is in peril, rather than Princess Peach. It's close to feeling like a knock-off, but due to its individualistic style and character design, it narrowly avoids any copycat claims. The gameplay sounds are crystal-clear. Being someone who appreciates the explosiveness of a crisp soundtrack, I feel that the gameplay becomes much more of a tangible experience through Big Head Gunner's sounds. The ringing of coins fills the ear with a "ting!" that borders on saccharine.
Big Head Gunner is another platformer that aspires to be like its greatest forerunner, kinda like the new Super Mario Brothers. Its close enough to its mark, but that's up to you to decide. Download it from the iOS App Store and leave us your thoughts, here.

Big Head Gunner: The New Super Mario Brothers?