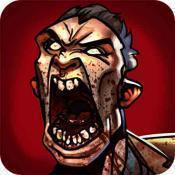 Do you think you have what it takes to survive the zombie apocalypse? Challenge yourself in the hazardous environment and become the hero you were born to be. Between the hordes of flesh craving dead, rationing supplies and polishing your archery skills, Dead Among Us will have you believing you're certified zombie killer.
Heckle Corporation's Cell Research Unit has caused a massive zombie outbreak, and it's up to you to quest across various cities and annihilate them all. In Dead Among Us, your character will be a skilled gold medalist archer teaming up with a few other survivors and scientists, to gain back control of mankind in over 90 levels scattered across multiple missions in 10 different locations.
This new iOS app will definitely keep you entertained for hours. The best feature of this game is the stunning and sharp graphic quality, especially for such a unique and detailed storyline. Rolocule Games certainly outdone themselves by creating this game.
Mark your calendars! Dead Among Us is expected to be released on July 11, 2015 being available for iOS users. If you're like me and can't wait until the release date, beta test the app on PreApps!
Can You Survive a Zombie Outbreak