Smartphones have become an important part of our daily lives. My phone is probably with me every single minute when I'm awake. But they are not only helpful during wake hours, they can also help you get a good night's sleep. Here we recommend you 7 top sleep tracking apps on iOS, which can monitor your sleep based on your movements and sleeping sounds. In addition, most of these sleep tracking apps have a great additional features, such as smart alarms. For those like me who has a problem of getting up every morning, these alarm features, which can make you feel refreshed and energetic after waking up, are my personal favorite.
Sleep Cycle alarm clock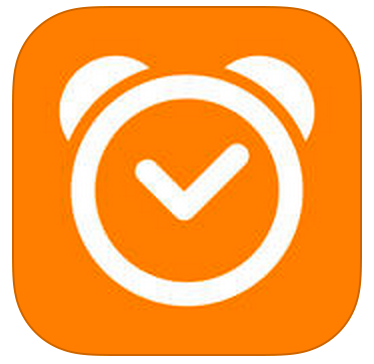 Developers: Northcube AB
Devices: iPhone, iPad, and iPod touch
Price: $0.99
In-app purchase: year SleepSecure membership: $1.99; SleepSecure$1.99
When you mention sleeping tracking app, Sleep Cycle probably the first one come into your mind. It's considered as not only the best sleep tracking app, but also the best paid apps in the US, UK and more. It promises to wake you up during the height of your light sleep cycle and makes you feel rested and relaxed, almost as if naturally waking up without an alarm.
Just as its name, the app tracks your sleep cycles: light sleep à deep sleep à REM-sleep (when you dream). Depending on the length of your sleep, this 90-minutes sleep cycle could repeat several times. Your movements and the depth of your sleep are different with each stage of the cycle. When you sleep, you need to put your phone on your bed and then the app will track your movements and analyzes your sleep by using your phone's accelerometer. You can check the detailed sleep statistics and graphs for each night, each week and more (but I have to say the graphic design is not pretty).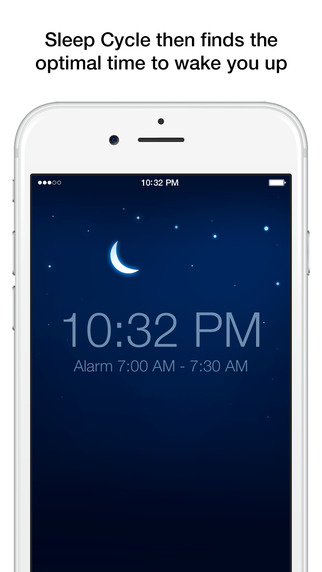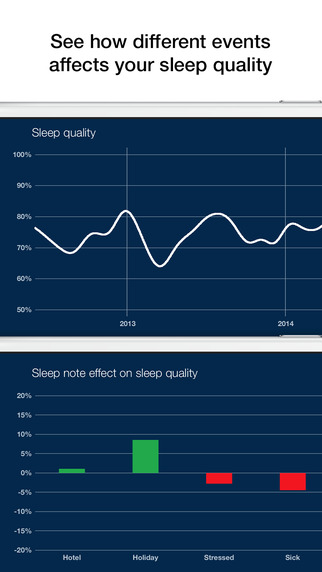 My favorite features:
For those of data believers, you can export sleep data to Excel for further analysis.
The app provides you with 15 high quality alarm melodies.
You can also use your own music — the phone is your pocket full of sunshine
It's also a health app to help you sleep better. It measures your daily physical activity and heart rate, and calculate show it affects your sleep quality.
You can also take notes — so you could record your activities such as drinking coffee and eating too much that can affect your sleep quality.
You can also customize the alarm window. The default setting is 30 minutes, but it can be longer or shorter so it can wake you up when you are at the height of your light sleep during that window.
Some features I don't like that much:
This app is a battery killer: when you're using this app, you should keep it being charged.
Sleep cycle is the most popular on the list. If you just plan to start using a sleep tracking app, sleep cycle is your best choice. It will make the 0.99 bucks you spend worth a while.

SleepBot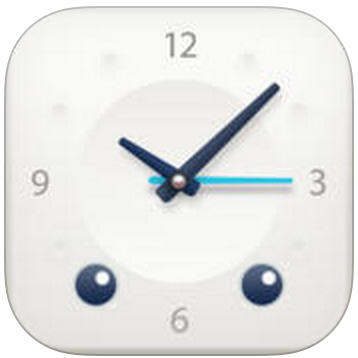 Developers: SleepBot
Devices: iPhone, iPad, and iPod touch
Price: Free
In-app purchase: No.
SleepBot is a smart alarm sleep tracking app that helps you record movements and sounds throughout the night. Same as Sleep Cycle, it can also wake you up at your lightest sleep. It also provides you an online version, on which you can share your sleep data.
When you go to sleep, you need to punch-in on your phone or online and SleepBot then starts monitor your sleep. When your alarm rings in the morning, the app will automatically punch out. The results and graphs are easy to export as graphs and csv documents.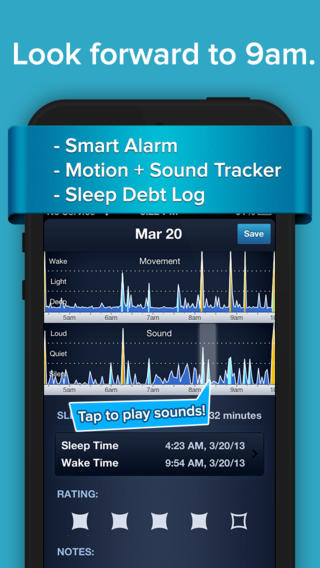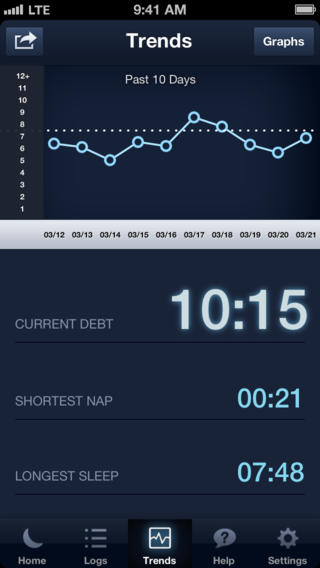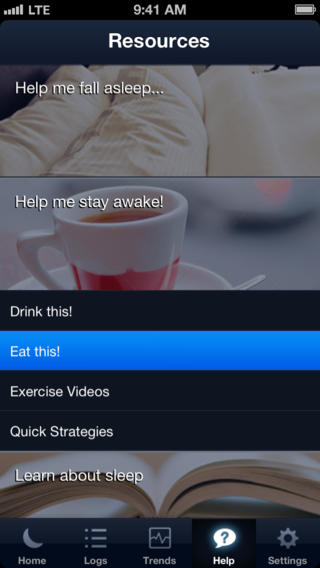 My favorite features:
Besides tracking the movement, SleepBot also tracks your sleep sounds, which make the result more accurate.
It monitors how your sleep tonight could affect the rest of your week, as well as show how your sleep pattern can affect you in the long-term.
SleepBot can recognize the ambient noise and provide you with soothing soundtracks to help you gently fall asleep.
As I mentioned before, SleepBot has an online version, where you can backup, restore and check data.
Save your battery: when in "asleep" mode, your phone will automatically be silenced, it turns airplane mode on and all the sounds off.
Beautiful designed graphics.
Some problems:
If it takes you a while to fall asleep, you need to create an offset to start tracking a few minutes later manually.
SleepBot sometimes cannot detect sleep motion. If you use a foam mattress topper, which is really soft, it'll be difficult for the app to detect movement.
You have to manually set an alarm every night.
Just try SleepBot, It gets the basics done and its absolutely free.

MotionX 24/7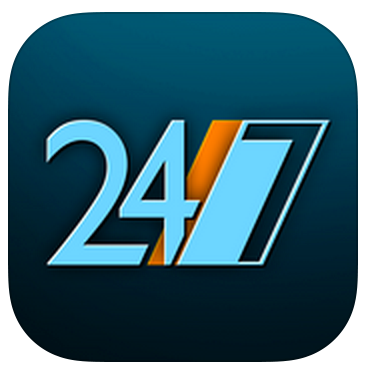 Developers: MotionX™
Devices: iPhone, iPad, and iPod touch
Price: $0.99
In-app purchase: No.
MotionX-24/7 partnered with Sleeptracker technology, launched their sleep tracking app. It delivers a comprehensive sleep solution. It also promises to help you wake up at the optimal time by analyzing your sleep patterns throughout the entire night. Same as SleepBot, you can also record snoring or other sounds during the night with MotionX.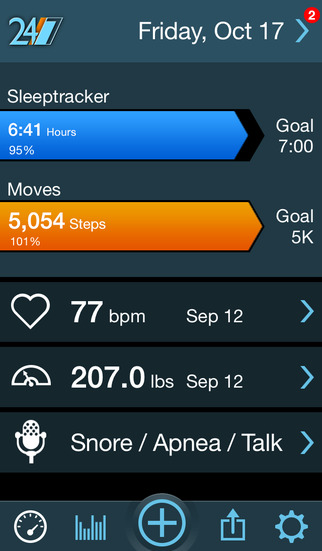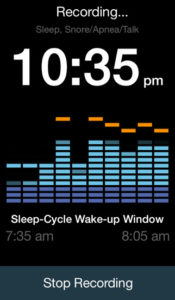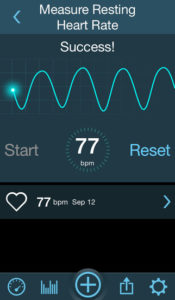 Some of my favorite features:
You can track your daily activity level, your resting heart rate, your body weight, and more with MotionX to provide insight into your sleep patterns. For those on a diet like me, the body weight function is quite useful.
User-friendly: The interface is easy to use and pretty.
With the app running in the background 24/7 battery usage is extremely efficient.
The PDF manual is really helpful: the manual provides you detailed guide with screenshots.
Some parts I don't like:
To get the accurate result, you need to place your phone according to the instructions, either in bed or in an armband. It's a little bit annoying.
I also expect more alarm soundtracks.

Sleep Time+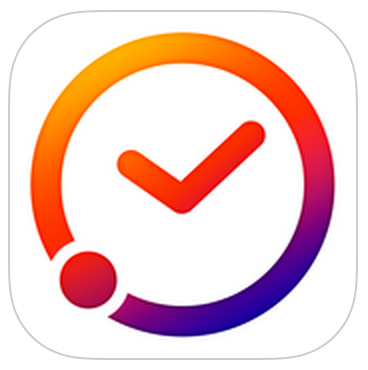 Developers: Azumio Inc.
Devices: iPhone, iPad, and iPod touch
Price: $1.99
In-app purchase: Premium Programs: $4.99 per month and 24.99 per year 
Seems all the sleep tracking apps are using one same technology: movement tracking. Developed by Azumio, Sleep Time+ also provides the same service. It gives you an insight into your sleep patterns by tracking your level of movement throughout the night and then generates customized sleep data into charts and comprehensive reports. You can also get the weekly or monthly report easily and store data on the cloud. The Soundscapes feature gives you the white noise to help you fall asleep easier even in the noisy environment.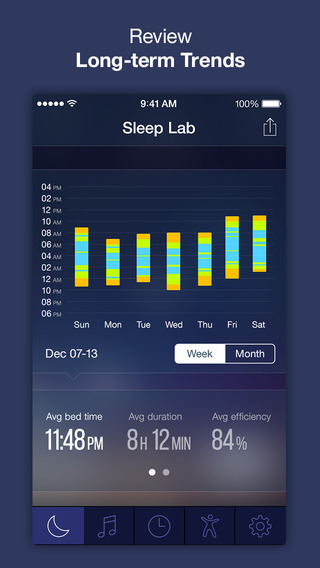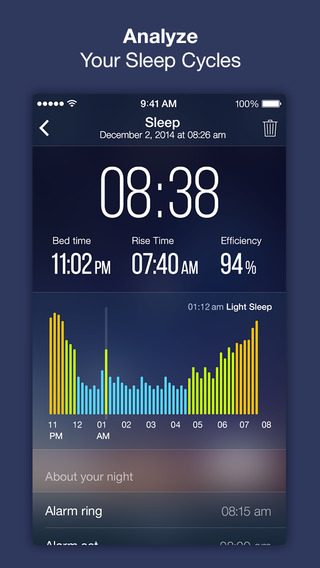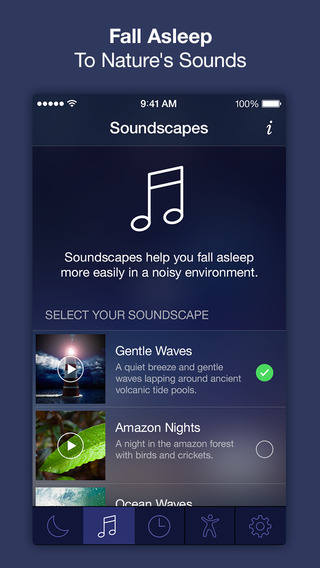 Some of my favorite features:
The white noise function is great: My apartment is close to a highway and several popular pubs in Boston. You cannot imagine how much noise I get every night. Falling asleep used to be difficult but the Soundscapes from Sleep Time+ simulates a natural environment and help me drift quickly into sleep.
You can set up the alarm easily by choosing from any of 20 built in alarms or the music you like.
Sleep Time+ also measures your heart rate integration to detect pulse after waking up
Sleep Time+ connects to the other apps in the family of Azumio applications.
Some parts I don't like that much:
Sometimes the alarm is not gentle at all

Smart Alarm Clock
Developers: Plus Sports
Devices: iPhone, iPad, and iPod touch
Price: $1.99
In-app purchase:  No
Developed by Plus Sports, Smart Alarm Clock focuses more on the alarm clock function more than any other sleep tracking apps. The basic idea of this app is waking you up better by monitoring your sleep cycles, movements and recording all sounds. You can select the time window you want to wake up and then, the app will wake you at the right time.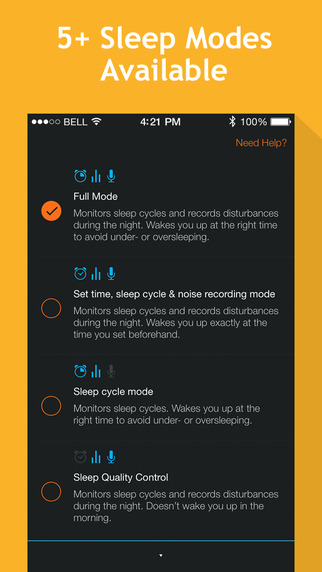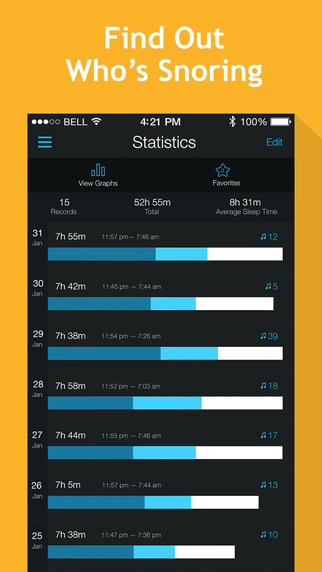 Some of my favorite features:
White noise to help you sleep better.
Well-designed graphs of sleeping patterns and cycles.
You can listen to the recordings of sleeping sound, including snoring and giggling.
You can choose from 6 sleep tracking modes, including a nap mode
Some parts I don't like:
There was once that the alarm didn't work . As an alarm, this kind of problem should not have happened.
Maybe the developer can provide better connection among all the Plus Sports apps.

Pillow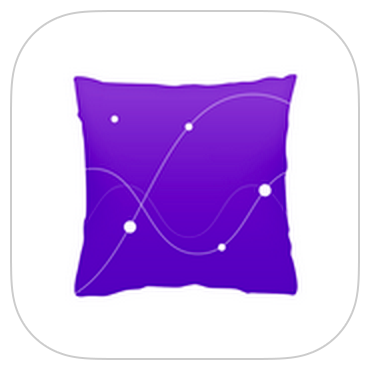 Developers: Panos Spiliotis
Devices: iPhone, iPad, and iPod touch
Price: Free
In-app purchase: Pillow Premium: $4.99
Developed by Panos Spiliotis, Pillow is the prettiest sleep tracking app I've ever seen. I think there are three basic functions of a sleep tracking app: measures and tracks your sleep quality; provides you sleeping data; generally wakes you up. In addition to the above three points, if it can help you learn more about sleep by giving you tips or help you fall asleep quickly by providing you white noise. If you're looking for an app to just give you white noise, Pillow is not the best choice. But the interface, graphs and charts are very visually appealing, which makes it worth a try.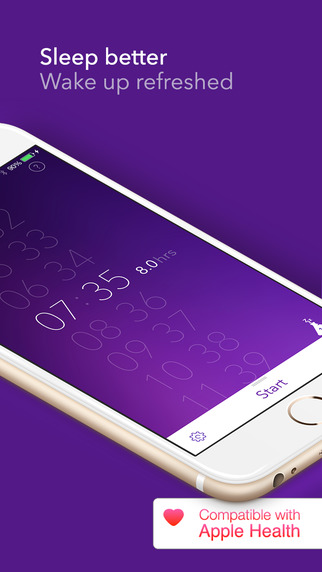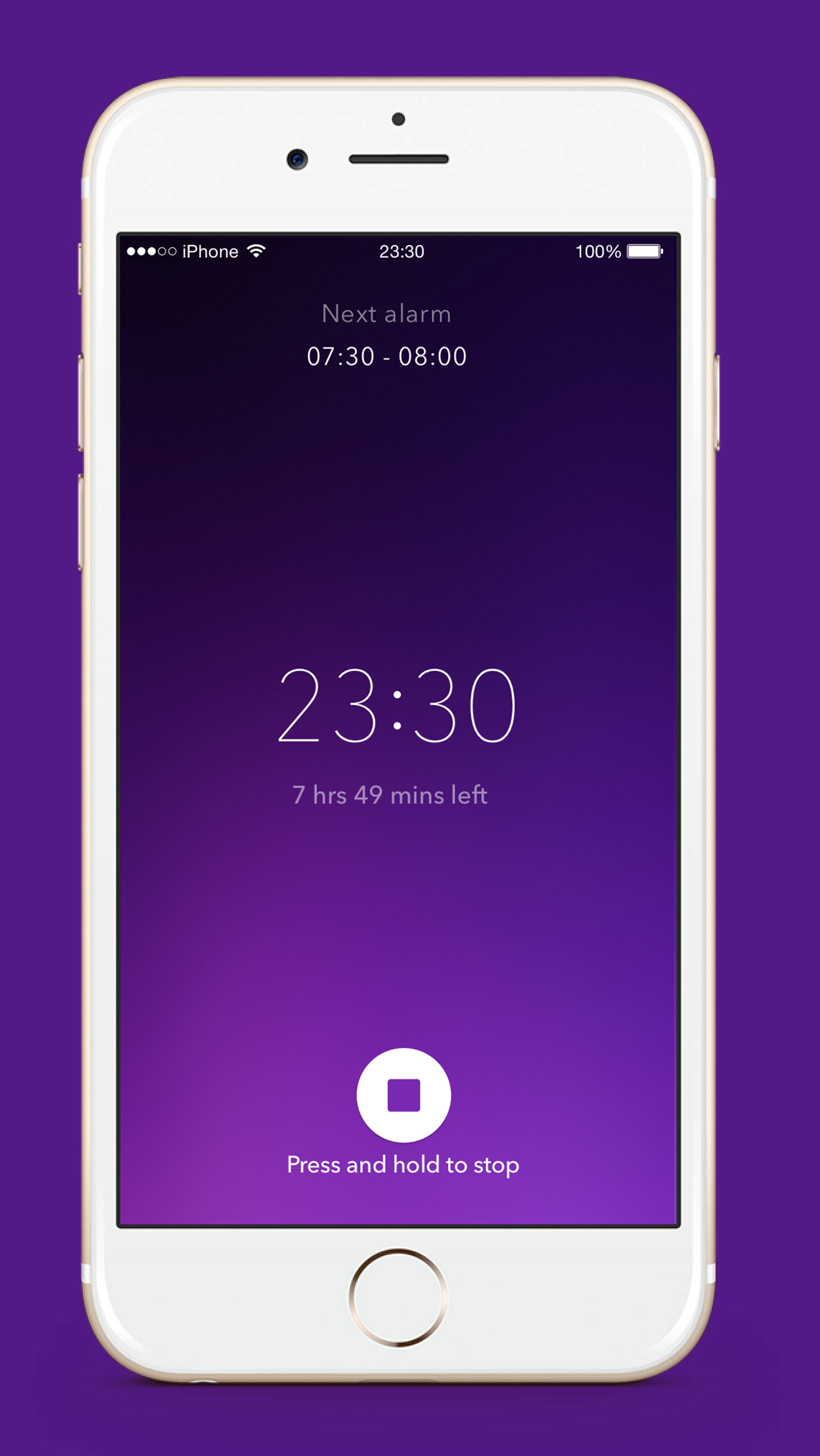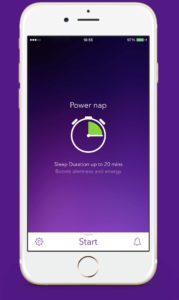 Some features I like:
Pillow is connected with the Apple's health app and can automatically add your sleep duration to the Health app after each sleep session. You can also view how your sleep quality is affected by a variety of health and fitness metrics.
Besides monitoring your sleep at night, it also detects and analyses naps and short sleeping sessions.
Efficient battery usage: the app can work in background mode.
It will records and analyze sounds during your sleep.
Adjustable time window for the smart wake up period
Pillow uses iCloud to safely backup your sleep data and audio recordings. You can also export your data as csv files.
Some features I don't like that much:
The built-in wake-up sounds are good but if you want to use your own song tracks, you have to upgrade to the premium version.
I think some paid functions are not quite useful. I do expect more from the premium version, but Snooze Lab's only personalized insight, the Best Time to Go to Bed based on your data is my favorite.

Sleep Better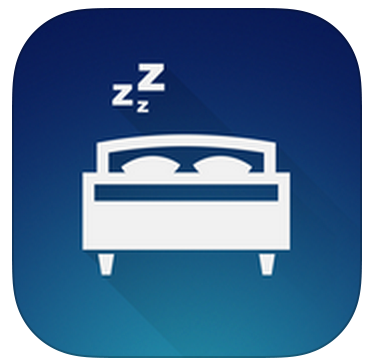 Developers: runtastic
Devices: iPhone, iPad, and iPod touch
Price: Free
In-app purchase: Full Version with 30+ Alarms: $1.99
Besides the basic functions of a sleep tracking app, Sleep Better by runtastic allows you to monitor your dreams and improve your bedtime habits. It offers you a simple and engaging way to improve your sleep quality by learning how your daytime activities influence your sleep efficiency.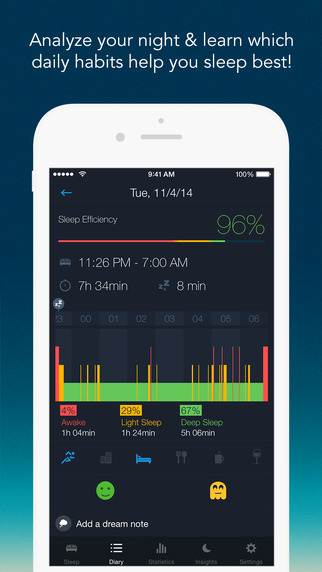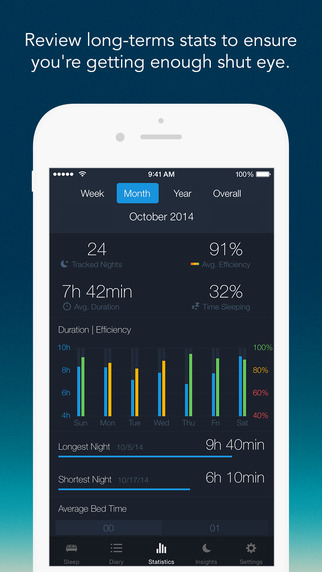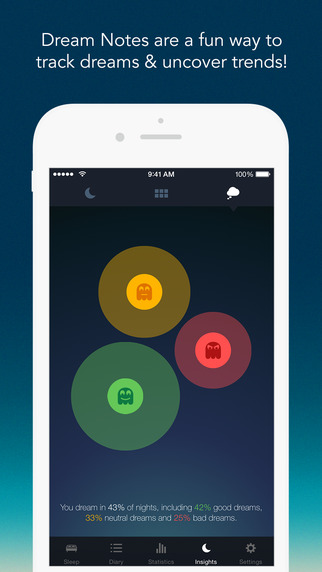 Some of my favorite features:
Beside s tracking your sleep duration and cycles, you can enter daily habits & variables, such as exercise info, alcohol consumption and stress level, to determine the effects of these variables on your sleep quality.
You can keep track of a lot more things: monitor moon phases; keep a dream diary to learn what you dream about most and what percentage of your dreams are good, bad or neutral; it's even possible to keep a note of your moods when you wake up as part of your daily.
Some parts I don't like that much:
The app has "not in own bed," but I hope I can get more modes, like "sleeping with noisy" or "sleeping with TV on."
It's connected with the Apple Health app, but maybe they can offer more connections with other apps, as well as better connections with runtastic apps.

Dozens of new lifestyle apps in Apple app stores promise to help you sleep better. I'm wondering when I can get a top sleep tracking app working on my iWatch? It will be much easier and more convenient to monitor my sleep if the device is wearable.
What's your opinion about iOS sleep tracking apps? Don't forget to share with us your sleep analysis experience.